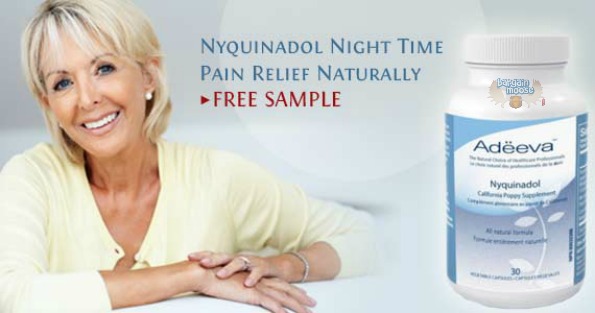 Adeeva Canada is giving away free samples of their Nyquinadol Night Time Pain Relief Formula, for a limited time only.
Adeeva Nutritionals' products are formulated by Dr. James Meschino, who has an absolutely stunning resume of accomplishments. To provide a little background, here are just a few of his many credentials:
Master's degree in science with specialties in human nutrition and biology
Originally a chiropractor, he is also an ND, a Registered Orthomolecular Health Practitioner and a Registered Acupuncture Practitioner (with special interest in chronic pain management)
Hosts his own health talk radio show on 640-AM in Toronto and is a resident wellness expert on Canadian Living (on CTV)
Can you believe this guy!? The word impressive doesn't even do justice to his accomplishments! The reason I wanted to share that information with you is because a lot of times, when I hear about a product from a company I've never heard of, I am a little skeptical. But in doing some research and finding out about Adeeva, I am convinced that this freebie is legit. With all of the scams on the internet these days, I wanted to be sure I was writing about a reputable brand.
The free sample that you will be receiving is a non-habit forming, natural sleep aid that combats aches and pains while you sleep. Nyquinadol comes in the form of vegetable capsules and contains ingredients from the California Poppy Herb (Eschscholzia californica).
This product is definitely worth a shot for anyone who experiences any type of pain or discomfort while you sleep (myself included). Sleep is such an crucial part of our health, and not getting a good night's rest can be quite detrimental to our mind and body.
Give Nyquinadol a try, and if it works for you, pick up a full-sized bottle at one of the many health food stores that carries Adeeva products (such as Nutter's Bulk and Natural Foods and Sangsters). Not sure where to go? Click here to enter your postal code to find your nearest retailer.
Looking for more Canadian freebies? Check out our Bargainmoose Freebies Forum.
(Expiry: While Supplies Last)