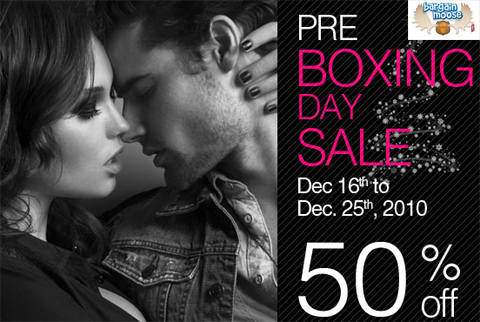 If you fancy doing a bit of clothes shopping at Buffalo David Bitton, they're currently running their "pre" boxing day sale! The event runs from now until the 25th of December 2010, and Buffalo David Bitton is offering 50% discount on EVERYTHING (apparently).
The sale is already happening online, you can see the automatic discounts applied to the items already. When you're browsing through the site, you can see the half price items with a price in a little pink box, highlighting the discount. You have to spend $150 for free shipping, but for smaller orders shipping seems pretty reasonable.
Certain restrictions apply of course, so I don't understand why they use the word  "everything" in their advertising.  Here are the details:
This promotion cannot be combined with any other offer. This offer is valid online and at participating BUFFALO DAVID BITTON retail stores in Canada, with the exception of Buffalo Entrepôt stores located on Sauvé Street and Taschereau Blvd.  Already reduced men's and women's denim is excluded from the promotion. Offer is not applicable on "cuffs of love." Offer may be modified or discontinued at any time without notice. Discounts are already reflected in sale price for online products.
Cuffs of love! We can't use it on the cuffs of love! Oh noes!
I guess they're just trying to get a bit of business out of us now rather than waiting until after Christmas.
P.S. Here on Bargainmoose, we're going to be keeping a close eye on all the Boxing Day offers and tagging them with the words boxing sale.