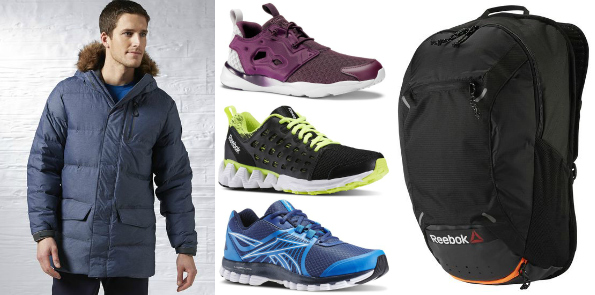 Reebok Canada has started their Boxing Day Sale with 50% off over 500 items on their website. This is one of those 'make your own sale' kinds of deals that I rather like. You choose the items and get 50% off in your cart. Receive free shipping on orders of $50 or more.
Only items through that pretty little link are eligible for the 50% off in your cart. Have no fear, you have tons of choice! For example, the Women's Furylite Sheer Shoes are $100 regular price. I chose the size I wanted and then added them to my cart. Presto: they came down to just $50. This discount does not extend to the customized version - that will still be full price.
If fitness is going to be your goal come New Year's Day, then you may wish to acquire a brand new Women's Reebok Racer Bra. These sports bras are great for reducing bounce. Originally $45, this bra is now $22.50. Choose from purple or black. I usually go for black so it goes with everything.
The Reebok ONE Series 24L Backpack is a great pack for hiking, overnight travel, shopping, and more. I like to just take a backpack when I go to visit friends (for a night over) as luggage is so bulky. Originally $55, this pack comes down to $27.50.
To keep yourself warm this winter - when winter finally hits - pick up a Men's Long Down Jacket. Usually, it retails $280 but you can score this large cosy jacket for just $140. Coats tend to be a big ticket clothing item that does not often go on sale during the winter. After all, if you are freezing then you are more likely to pay full price for a jacket! This is a nice promo.
They also have men's shoes and you can buy them for a song - almost. The Men's Sublite Super Duo Speed Shoes were $90 and come down to $45 with this promotion. I usually consider under $100 a good price for a quality pair of shoes. Under $50 is WAY better.
Kids are not left out. This Youth ZigKick Racer was $75 and comes down to $37.50 after discount. I really like the heel on this shoe and have been seeing more and more shoes with this style.
(Expiry: Unknown)