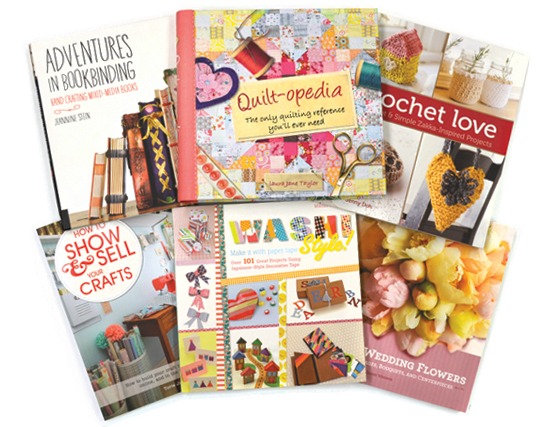 Shopping for some arts & crafts books? Check out BookOutlet.ca for a limited time and you can take an additional 50% off a variety of books on arts & crafts. With this additional discount you will be saving up to 90% off the original prices of crafting books at Book Outlet Canada. These books include teaching books for many crafts like quilting, embroidery, knitting, beading, origami and so much more. The prices start as low as $1.99, so snag a few crafting books at excellent prices while you still can.
On my Facebook feed I have seen this new trend for Christmas gifts. Essentially you are supposed to give your children only four gifts. These four gifts will include:
something they want
something they need
something to wear
something to read
So if you are doing the Four Gift Challenge this Christmas, then you probably are on the hunt for a fabulous bargain on something for your kids to read. Well, Book Outlet Canada has a fabulous selection of Arts & Crafts book on sale for up to 90% off, which means you could pay as little as $1.99 for a fun book that will provide hours of entertainment for your children or teenagers. So let's get the kids into making some sort of craft! They will love having something they can do indoors when temperatures turn freezing this winter.
The first book that caught my attention is Adventures in Pompom Land. This book will teach you all about creating adorable creatures and more using pompoms and other art materials. This book was originally $23.61 but is now 87% off, which leaves you paying just $3.24. For something a little more generic, you may want to check out The Complete Book of Arts & Crafts which was originally $39.44. This book will teach you about painting, random crafts, and so much more for just $6.49, which is 84% off the regular price.
Are you looking for something you can make as Christmas gifts this year? Why not make some scarves for your family and friends. This Nicky Epsteins Signature Scarves book may be just the help you need. It was originally $26.24 but luckily during this promotion you can call it yours for just $4.54. Honestly though, there are books available on all sorts of different crafting like crochet, jewellery making, knitting, sewing, Christmas crafts and so much more.
The shipping cost is where it will get a little complicated. When shopping at BookOutlet.ca, your shipping cost will be $3.99 plus an additional $0.95 per item in your order. For example, if you order one item your shipping will be $4.94. If you order two items your shipping will be $5.89 and so on.
(Expiry: Unknown)