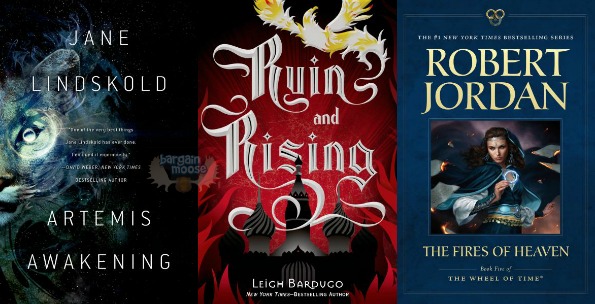 Book Outlet Canada is having a 30% off site wide Boxing Day Sale, which is the same as their Black Friday sale was if you missed out. However, you have the opportunity to bump that sale up to 50% off site wide by signing up your email address and sharing their sale with a friend. They will then email you a unique coupon code for 50% off everything.
They had a similar offer for Black Friday (30% off plus a $10 coupon code if you signed up and shared). My husband hauled in a large stack of books with that combination of deals and I think he is looking forward to this Boxing Day sale to do it again. Needless to say, we had to give his book shelves a good organizing after Black Friday as they were overflowing!
The process to score this deal is simple:
Enter your email address (twice)
Share the news with your friends via Facebook, Twitter, Email, or through Link.
Click "Done Sharing. Get my coupon code" after you have shared the deal.
Save the unique coupon code that pops up. This will also be emailed to you.
Make your purchase during Book Outlet's Boxing Day sale (starting December 26th) and you will receive 50% off everything instead of 30% off for those who are too lazy to simply share this deal with their friends (or who do not know about it). I sent the deal to my partner because we are both avid readers. The Boxing Day sale appears to be one day only and the best book selection will be earlier rather than later!
What books are on your wish list this year? While I have over 20 unread books on my shelf (so I have stopped buying), my hubby is busy collecting a beautiful trade paperback version of Robert Jordan's The Wheel of Time Series. For my partner's birthday (January 2nd), I bought him Artemis Awakening by one of his favourite authors, Jane Lindskold. I would have waited until Boxing Day, but the book never would have arrived in time for his birthday.
Book Outlet is one of my favourite places to buy books as they are far below retail value. Even with shipping costs, you are saving oodles of money.
(Expiry: Unknown)