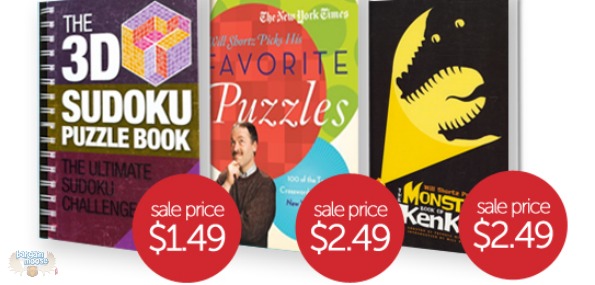 Receive an extra 50% off the already reduced price on fifty puzzles and games at Book Outlet Canada.
There are a lot of Sudoku puzzle books included in this sale. if you have been there and done them and think you have mastered the world of Sudoku, think again. Check out The 3D Sudoku Puzzle Book that retails for $7.99 and is on sale for $1.49. It takes Sudoku to a whole new level with over 300 3D puzzles to challenge your brain.
If you want a book with puzzles of varying difficulty for the entire family then try out Bananagrams: The On-the-Go Edition: 575 All New Word Games that retails for $9.95 and is now $2.49. I have never played Bananagrams, is it anything like Cryptograms? I use to love cryptogram puzzles.
Do you love optical illusion puzzles? Also a Harry Potter fan? This Harry Potter Magic Eye Book: 3D Magical Moments will be a big hit then! Originally $16.99 it is now only $3.49. There is a full-color image on each page, with a smaller black-and-white image of the "hidden" scene in the back of the book to help you solve the puzzle if you get stuck.
Pay $3.99 base shipping and $0.75 for each book.
(Expiry: Unknown)