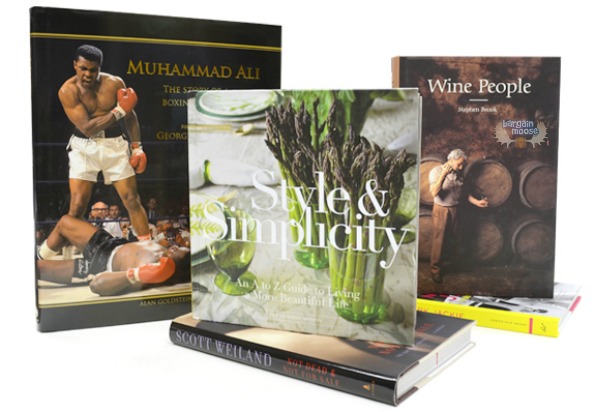 Book Outlet always has hot deals on books. But, what makes it even hotter is that we managed to score an exclusive 25% off coupon code to add to these hot deals. I found books that were less than $0.30!
Click here to shop @ Bookoutlet.ca now
Coupon Code: BARGAINMOOSE25
Discount: 25% off
Expiry: 18th June 2015
I have purchased books from Book Outlet before and they came quickly and easily. What I love about Book Outlet is that although they don't always have the latest and greatest (they are an outlet!), I don't care about that. I am not one to need to read what everyone else is reading and pay $30 for one book because of it. In the city I used to live in, the public library used to have a huge book sale every year where I'd pick up seriously about 50 books in various genres that looked interesting to read. I'd go home not that much poorer, with an armful of books. I can do the same thing shopping at Book Outlet!
Book Outlet is known for their 50/50 sale and this week they've got coffee table reads, which is pretty cool. There are a lot of biographies in this section and one that I have read is Scott Weiland: Not Dead and Not For Sale. I am a huge fan of Stone Temple Pilots and loved reading about all of Scott's antics. Regularly listed at $24 and selling for $9.59 at Book Outlet, this week it is on sale for only $4.79. But add the coupon code on top and the price comes down to $3.60!
As I said in the introduction, I found books for less than $0.30 and in the scratch and dent section I found this Baby Animals mini colouring book. Super cute and great for road trips, it regularly sells for $1.99, but after all deductions and coupon, it comes down to $0.27! If you are a teacher, you might want to pick up a bunch of these as gifts in a prize bin.
My tween loves to read and he'll read almost any books put in front of him. Now might be a great time to stock up on books for summer for him. I know he'll devour this Big Nate in a class by himself. It lists for $14.89, and sells for $7.19 at Book Outlet. Once I've add the coupon, it comes down to $5.40!
Shipping is the tricky part. You'll pay $3.99 for shipping on the first item. After that each additional item will have a $0.95 charge, which I don't think is too bad!