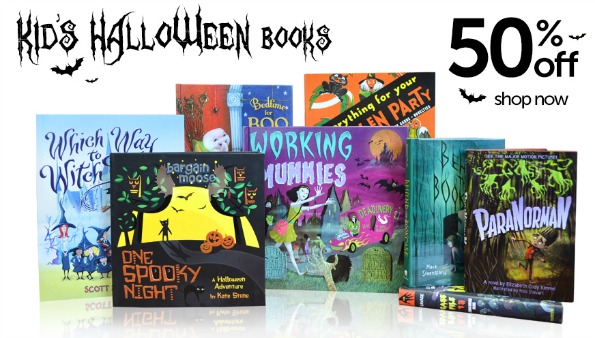 Halloween is three weeks from tonight and I know my family is getting in the "mood". I bought two of my sons their costumes last night and they haven't taken them off. I actually have had to hide them so pieces don't go missing before they get to wear them trick or treating. I've learned from experience. To get them even more in the mood, I'm totally going to get some books from the 50/50 sale that Book Outlet is having right now with 50% off Halloween books.
My middle son actually has quite the obsession with Halloween and I found it comical when he started getting library privileges at school and every week he brought home a Halloween-themed book, even at Christmas! I guess he just likes spooky stuff. The kid has no fear. I'm going to use this sale to build up his collection of scary reads.
There are so many books under $3, it is hard for me not to go wild and buy them all. I just might. I'm that person who comes out of the library unable to hold the door open with my stockpile of books. At these prices, I don't need to pay late fees because I can put them on my own shelves.
Some of the fun books I found during this sale included:
One Spooky Night - was $11.99, now $1.99
Usborne monsters colouring book - was $7.95, now $1.99
The Monster Diaries- was $6.95, now $1.49
Totally lame vampire - was $12.99, now $2.49
The Morgaville vampires - was $9.99, now $1.99
As you can see, there is something for every age group as well, even adults. I know lots of people are huge fans of vampires, so this collection of books might have something new to get you loving.
I couldn't help myself, not only did I get my kids some Halloween books, I had to check out the 25% off cookbooks that were on sale right now too.
Shipping is $4.74 for the first book and $0.75 for every book thereafter.
(expiry: unknown)