BOGO Free Printable Coupon For Cineplex Microwaveable Popcorn!
The joyous sound of popcorn kernels popping in the microwave, the wondrous buttery salty smell, the delicious moment when you burn your fingers on first touch! Yep! That's microwave popcorn!
I've found a free online coupon which you can print and present at your local Shoppers Drug Mart to get a bargain deal on their Cineplex Big Screen Snax popcorn. They are buy 1 get 1 free!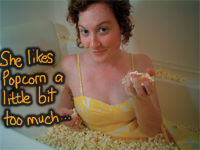 You can try:
Cineplex Big Screen Snax Butter Microwave Popcorn
Cineplex Big Screen Snax Extra Butter Microwave Popcorn
Cineplex Big Screen Snax Light Microwave Popcorn
Click here to get a hold of your handy printable coupon for Buy 1 Get 1 Free on the Cineplex popcorn.
The coupon expires on the 31st of May 2009!
Have you ever tried this brand of microwave popcorn? I haven't. Let me know what you think of it! My fave brand is the Orville Redenbachers. It is just supreme microwave popcorn!
Thanks octaypus!