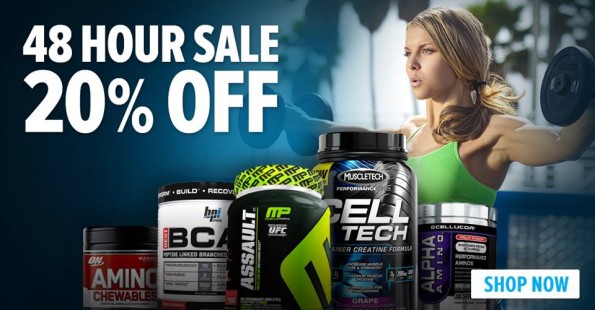 BodyBuilding.com is having a 48 hour sale with 20% off a number of items. You don't need a promo code, just add the select items to your cart and you'll save.
Although I don't use supplementation, I often peruse BodyBuilding.com. They have so many great resources on their site. There are 18 brands available for this sale, which means you know you'll get a good deal on something you might need to get buff. I did notice that some items are not available in the Canada store, most likely to do with FDA regulations, but if you are a regular user of supplementation, you might already have a brand in mind that you want to get and you can stock up on it at 20% off.
I also think it is cool that BodyBuilding.com has a rating system based on reviews, so you know right away if the product is worth it. For example, the Cellucor performance whey protein powder is a 9.2 out of 10, which I think is excellent. This is out of over 1,000 reviews, so that is a fairly large sample of people giving it a high rating. Instead of paying the regular price of $49.99, you'll pay only $32. That's because this protein powder is on sale for $40 and you'll get a discount of $7.99. Shipping is about $7 to Canada, so not only do you get it at a sale price, you cover the shipping with the additional discount. The flavours of this protein powder sound pretty yummy too, like red velvet cake batter and strawberry milkshake.
Something I've been told I need after an intense workout is recovery supplementation. This R3 Extreme looks like something I could use and it has a 9.3 rating. It is also already on sale, so the end price is going to be sweet. With a regular price of $96.06 and an on sale price of $56.56, add it to your cart and see the final price drop down to $45.25 with only $5 in shipping charges.
While the shipping costs vary depending on the product, note that Bodybuilding.com does ship from the U.S., so you may encounter some duties and fees as well.
(Expiry: 4th July 2014)