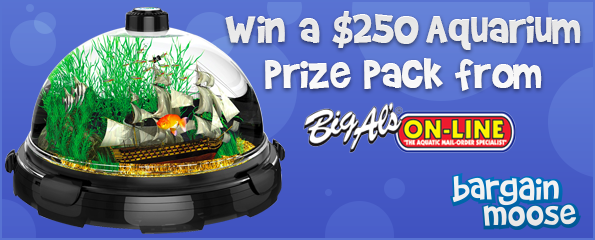 *** Contest now closed, winner is Rebby who is going to name her fish Sharkey! ***
On this beautiful Sunday in March, Bargainmoose has another fun contest to present to you! Get a $250 prize package from Big Al's Pets. This package is fully stocked to give you the aquarium experience you deserve ;)
First off, you'll get the BioBubble Aquarium bundle, which is a super cool three gallon aquarium with a one-of-a-kind clear dome so you can see your fish or other underwater life at all angles. If you aren't into fish, you could even easily convert it to a terrestrial habitat. This set is valued at $149.99.
You might be wondering what else you'll need to spend money on once you get the aquarium, but it is all included in this contest package. You'll also get:
As you can see, you probably don't need another thing for months for your aquarium. You've even got the book on how to take care of your aquarium. Well, you will need to get the fish - I don't think they'd ship well ;)
If you are interested in shopping at Big Al's Pets, know that they also have free shipping on orders over $75 and you can get all the latest coupon codes in the forum - such as our exclusive code here:
Coupon Code: bargainmoose10
Discount: 10% off $50+
Expires: Unknown
You can also like them hereon Facebook and join up to their newsletter here.
How to win this prize?
Tell me what you'd name your new fish!
Get bonus contest entries!
Rules:
Canadian entrants only
One entry per household
Ends 21st March 2015
Rules subject to change at admin's discretion