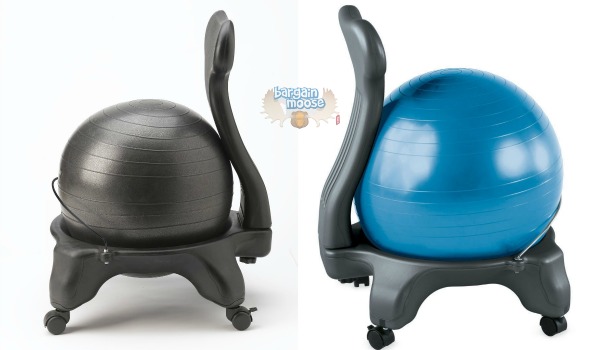 If you are reading this, you could be sitting in a chair like I am while writing this. Your back could be aching like mine as well. I have been considering one of these Gaiam balance ball chairs for a year now and I think now might be the time to take the plunge. Regularly $140, they are on sale at Amazon right now for as low as $67.02, depending on which chair you choose. With your order being over $25, it will ship free too.
These chairs are said to help strengthen your back, align your spine, relieve pain and more. This sounds good to me.
There are a few colours on sale and the black this time happens to be the cheapest. I find that interesting as usually the more lesser-wanted colours like purple usually go on sale for items like these.
Theblack was $140 and is now $67.02. I do see that the other chairs all come with DVDs, which could be why there is a price difference. The other colours are selling with a regular price of $139.99 and are now $71.53 for the blue and $84.99 for the purple and green.
All chairs also have castors on them so you can roll around your office as you would normally in your office chair. The ball is also removable so you can do exercises with them too. Just don't let the kids get a hold of it, as you know it will be flying across your dining room table.
Just to show you how good of a deal this is, I price compared at so many other Canadian stores that sell these chairs:
I'm going to think that this chair will sell out as while I was writing, I saw the stock go down, so don't wait!
(Expiry: Unknown)