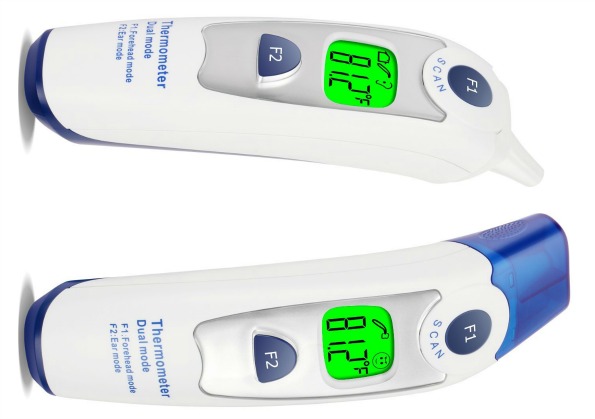 Sick season is in full swing! I've got coughing kids, nauseous kids and there are kids at my kid's school out with pneumonia. It is unfortunately that time where we need to be extra vigilant about hand washing, nose blowing and keeping hands out of our mouths! If your kid does get sick and spikes a fever, you definitely want to have a thermometer that works well, works easy and you don't really want to pay a giant price for it. Amazon has a super hot deal on right now on the Etekcity ear and forehead  infrared thermometer. Regularly $79, it is on sale for $39.99. Add the coupon code 7JBOCVNM to get another $10 off this item and pay only $29.99. You'll also get free shipping being over the $25 mark.
I know that this deal is hot without even having to price compare because I've been through my share of thermometers. The forehead and ear ones are by far the best, especially for the little kids and here's why. First, you won't have to get a baby or young child to hold a thermometer in the their mouth. Second, you won't have to stick anything up their rear, which might produce the best reading, but is super uncomfortable for all involved. Third, you can take their temperature while they sleep. Any parent who has had a child who is sick and won't go to sleep knows that the last thing you want to do after they've gone to sleep is wake them up to take a temperature. These types of thermometers where you only have to stick quickly in the ear or swipe on the forehead will do the job and baby won't know the difference.
I also find that the ear temperature is also the most accurate, almost as accurate as the bum temperature. Basically, you just need to know the range, like if the child (or adult) is over 100 degrees farenheit. This thermometer even has a visual and audible alert when the temperature reaches over that amount, so there is no guessing for anyone.
I also like there is a back-lit LCD display so you don't have to run out of the room to see what the temp is, you can see it in the dark. Another cool feature is a low-battery indicator as the last thing you need after having it in the bathroom cupboard for months is that the battery is dead right when you need it. Also, it records the last 2o temperatures so you don't have to try and remember what it was at 2am and wonder if it has gone up or down.
While I didn't really find this exact thermometer at other stores, I saw that ear and forehead thermometers generally sell for a minimum of $50 at places like Walmart and Well.ca.
(Expiry: Unknown)