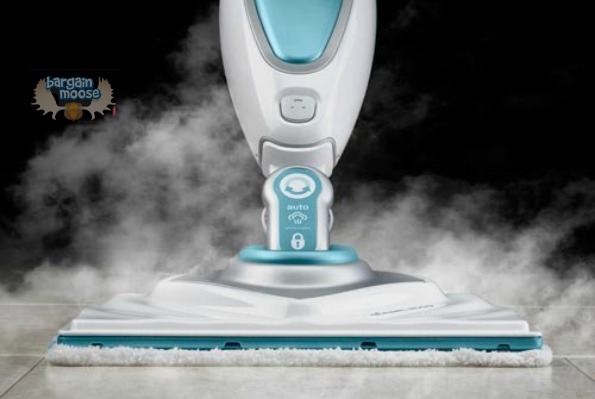 Spring cleaning season has started! Do you have all the necessary tools? Amazon's got a sweet deal on right now, with the Black and Decker SmartSelect steam mop with handle command on for only $74.25, with a regular price of $119.99. On top of that discount, once you get to checkout, you'll get another $10 off, as part of their sale on Black & Decker products, giving you a total price of $64.25. They've got an additional $10 off select Black & Decker products over $50 and this steam mop luckily happens to be one! You'll also get free shipping on this item.
I have to say, I love steam mops. My husband is a traditionalist who gets down on hands and knees and scrubs the floors. I never know why when the steam mop does just as good (maybe better... shhh... don't tell him I said that!) of a job. Steam mops are so easy to use and they remove all of the dirt and germs with just water, so you don't even need soap or any harmful chemicals.
I like not having to use any chemicals on my floors as I have lots of kids and lots of pets who are routinely all over my floors. Hence, why I need a steam mop!
While I haven't used this particular model, the specs look pretty good. The tank is large enough to hold enough water to let you mop for 22 minutes straight. I think you could get a lot of flooring done in that time period. I think this is a great feature to have as I've had to refill the water tank on my steam mop mid-mop and it is a pain. There is also a burst of steam button that will give you more heat to get off those dried up and stuck on stains. I'm sure you know the ones.
This mop is also very intuitive and gives you the right amount of steam based on the flooring you select. You can even mop your hardwood with this mop!
I couldn't find this mop available elsewhere in Canada to give you a price comparison, but I did find it at the U.S. Home Depot selling for $107. Amazon.com sells it for $120. The U.S. NewEgg sells it for $90, which is still more than Amazon.ca's price.
Put the mop into your cart and get to the last steps of checkout to see the $10 additional discount.
(Expiry: Unknown)