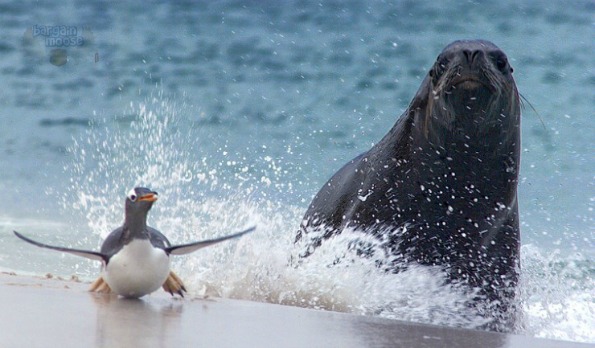 Amazon Canada has discounted the BBC's Frozen Planet: The Complete Series [Blu-ray] from an original retail price of $62.48 down to $14.99. This is the lowest price that I have seen this wonderful series from the BBC.
I price compared this set to other popular retailers. Only one store matched Amazon Canada's price, and they only have one left in stock.
$14.99 @ Future Shop (1 left) (UK)

$19.96 @ Walmart Canada (US)
$29.99 @ Best Buy Canada (UK)
$42.71 @ Staples Canada (OOS) (US)

Now, the series at Amazon.ca is the original UK series whereas there is also a US version (noted by a different cover) that I price compared against as well. You really want the original UK series... from reviews I have read, it is just better.
I figured with how quickly Future Shop's stock is selling out, that this is a good deal. I bought this set for well over double this price a few years ago because I could not wait to add it to my collection. I am a huge BBC nature series fan and this is yet another documentary narrated by the amazing David Attenborough.
With seven episodes spread over three discs with bonus material, you are certainly getting your money's worth and then some. The episodes are:
"To the Ends of the Earth"
"Spring"
"Summer"
"Autumn"
"Winter"
"The Last Frontier"
"On Thin Ice"
This documentary takes you to some of the most inhospitable places on earth - Antarctica and The Arctic - to show you the life cycle of plants and animals that dwell or migrate to these regions. Enjoy an intimate look at the survival of polar bears, penguins, killer whales, snow geese, and more.
Some of my favourite work is in the bonus materials. Each episode contains a "freeze frame" segment (at the end) explaining how the camera crews captured a particular sequence. Often it is at great peril, after weeks of disappointment, or complete fluke. You get to see behind the camera, which is incredible.
I love this series very much; it is one of my favourite documentaries to watch - especially in the summer. While watching icebergs and snow as far as the eyes can see will not cool me down in the summer heat, it gives me an escape. I completely agree with a reviewer who says:
Wow! I thought this series was great. I have always had a fascination with the polar regions and this BBC series certainly showed them at their best. It is amazing to see what different animals do in order to survive in these harsh environments.
Receive free shipping on orders of $25 or more at Amazon Canada.
(Expiry: Unknown)