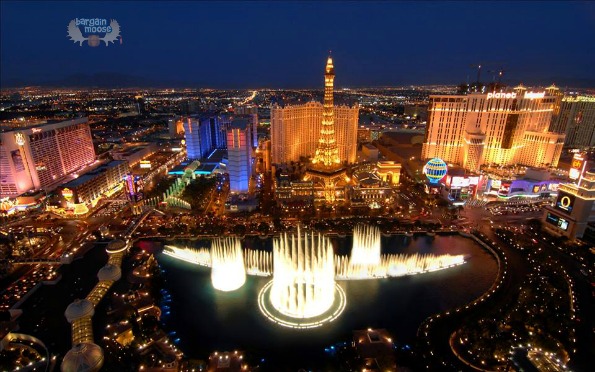 Looking for a cheap vacation? Air Canada Vacations has a some very hot deals on trips to Vegas that start at only $340. This includes your flight, hotel and all taxes and fees! You just need to pay for your food, drinks and activities (except the ones included in this package!).
Not only do you get hotel and flight included in this package, there are some other perks added. First, you'll get to choose your seats free. You'll also get free round-trip transportation to your hotel. On top of this, you'll get free access to the Maple Leaf Lounge, which is a huge bonus, as this is worth about $25 a person and as our own Mooser Anna has used it a few times in Toronto, she says it is great. You get complimentary snacks and non-alcoholic beverages, along with televisions, free WIFI, quiet zones and more. This saves you from sitting in a restaurant, paying $20 or more for a meal just so you have a spot to sit. I'm not done with the perks yet. You'll also get a free tour to Laughlin, 2-for-1 helicopter, airplane and bus tours and priority check-in and late checkout.
Sounds awesome, doesn't it? Now, the bad parts. I've heard Vegas is stifling hot in the summer. But, it is the desert, what else would you expect. All of the hotels and bars are air conditioned, so ignore the heat. Sit in the hotel's pool with a drink all day. For less than $350, you can't do that here for more than two days! The other is that this flight is with Air Canada Rouge, which I've heard is notorious for not being a fun airline to fly with. Apparently there is very little legroom, no WIFI and no televisions, but to this I say "whateves". Your flight is just a small part of your vacation and I'm sure for the savings you are getting you can handle it for the four or so hours you are on the plane!
(Expiry: 14th August 2014)