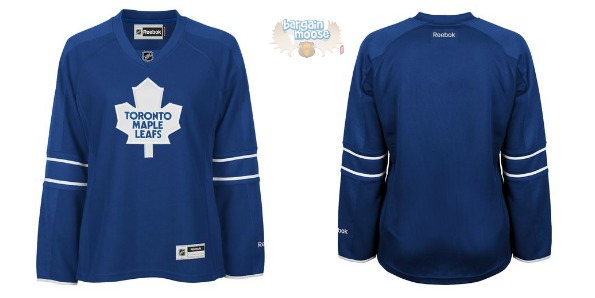 Get set for next year with this women's Toronto Maple Leafs Premier jersey from Reebok, which was $110, on sale for $49.95. Once you add it to your cart, you'll see it discount an extra 25% and the price will come down to $37.46.
This jersey is gorgeous and sure to please any Leafs fan. You really can't get another at this much of a discount. Extra small, small, large and extra large are available. If you are a medium, size it up a bit since its a jersey and meant to be a bit big anyway. Or, you could size it down for a tighter, maybe sexier look!
Of course, I checked around the web for this jersey and found no other store came even as close to the price.  Ice Jerseys did sell one similar for $99 but is sold out. Shop.ca sells that same one for $99 and even if you weren't $1 short of using the $40 off coupon, you'd still pay more there. The cheapest I saw it out there was $80 and that again was for the one with the different neck. Either way, this is the cheapest Reebok Leafs jersey for women out there.
The only kicker here is that free shipping starts when you spend $50. You can obviously buy more than one jersey or you can see what else is on sale that will also get that extra 25% off discount.
These women's mesh lined 4.5 inch shorts are perfect for sports or lounging, especially at this price. Regularly $25 and on sale for $15, add them to your cart and your price will drop to $11.25! This Reebok One series running cap also gets the same discount, regularly $25, on sale for $15 and down to $11.25 in your cart. You'll be all set for next run.
Men don't need to be left out of this jersey deal either and although it is not as hot, it is still a great deal on this men's Toronto Maple Leafs premier jersey of Phil Kessel. Regularly $175, it will come down to $74.96 in your cart.
(Expiry: Unknown)