Toys R Us Canada Cyber Monday 2018
Updated: Nov 27, 2017
Up to 50% off for Cyber Monday @ Toys R Us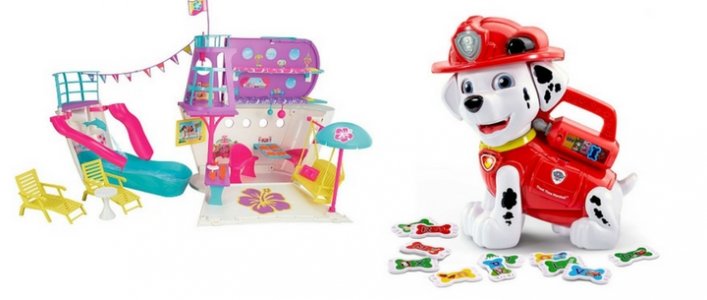 Toys R Us is having their Cyber Monday sale, which means you get to save up to 50% on a variety of toys! But these offers are only available while supplies last, or until the end of the day.

Here are some of the items on sale at ToysRUs.ca for Cyber Monday:
And you will save even more with free shipping! Hurry these offers end today.
Toys R Us Cyber Monday Canada goes live at midnight on Sunday, November 26th. So get your wallets ready, because here is yet another opportunity to save big on items for babies and kids before Christmas.
The sale will be available both in stores and online, but there are even more great deals available online than in stores so choose wisely.
Here are some of the incredible deals that we saw in 2017:
Forever Sisters Frozen Playland with 50 Balls - $37.47
Touch N Go Bullet Train - $18.47
Tonka Classic Dump Truck and Street Loader - $22 - $24
Hot Wheels Avengers Quinjet Launcher - $13.97
Hot Wheels Kids Picks Track Pack - $19.97
High Back Turbo Booster - $39.97
BabyBjorn One Carrier Black/Blue - $119.97
LiteHawk Quattro Radical Drone - $24.97
Stack n Spin Burger by Giggling Gourmet - $12.47
Babies R Us Recline Booster - $15.97
Babies R U 3 in 1 Potty - $12.47
Bounce & Learn Frog by VTech - $19.97
Save $90 on TableFit High Chair by Graco - $99.97
Save $80 on Botany Collection Pack 'N Play Playard - $99.97
Toys R Us Cyber Monday 40% Off:
Teenage Mutant Ninja Turtles Deluxe Be A Ninja Role Play - $26.97
Cars Remote Control Vehicles
Select Interactive Minions
Toys R Us Cyber Monday 30% Off:
All Bauman Sleds and Toboggans
All Millside Wagons and accessories
There are a few more items that caught our eye last year during Toys R Us Canada Cyber Monday Sale, such as the Mashin Max Game, which was originally $19.99 but was reduced to just $9.97.
Toys R Us Canada also offers free shipping on most items when you spend $49 or more. The items that don't qualify for that offer seem to qualify for a $10 shipping discount instead, which will leave you paying very little for shipping and handling.