Well.ca: 25% Off Jamieson Vitamins & Supplements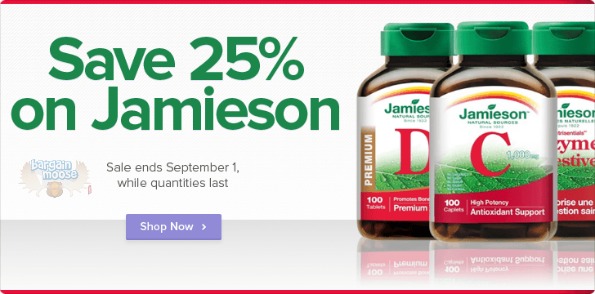 School is coming. Winter is coming. Cold season is coming. You can't stop two of the three, but you can help prevent a cold by taking your vitamins! Save 25% on Jamieson vitamins and supplements at Well.ca this week.
During the winter we, in the northern hemisphere, rarely get enough sunlight. Not getting enough sunlight means our bodies are vitamin D deficient as my doctor so aptly informed me. He suggested I take Vitamin D, an easy way to help your body feel better. Pick up some Jamieson Chewable Vitamin D3 1,000 IU tablets for $5.24 (reg. $6.99). I have been so bad lately about not taking mine!
For all the ladies out there, you should seriously know by now that it is never too early to start taking calcium supplements. My doctor has even suggested I up my calcium intake around that time of the month to reduce cramps. If you suck at taking your Vitamin D you can combine your calcium and vitamin D pills into one. Just pick up the Jamieson Calcium Magnesium with Vitamin D3 Bonus Pack for $7.49 (reg. $9.99). The bonus pack is good value for 200 pills.
Enjoy free shipping on $25 or more.
(Expiry: 1st September 2013)