Wagjag: 6-pk Maybelline Great Lash Mascara ($52 Value) - Just $19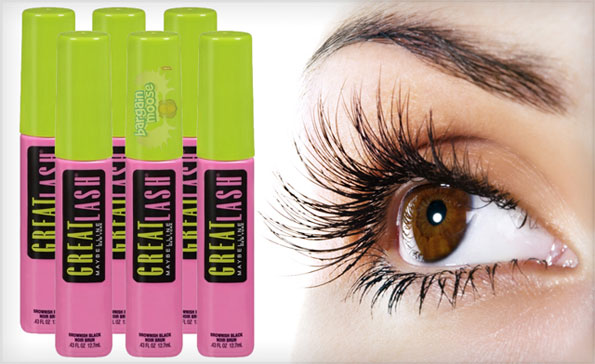 Ladies, do you ever leave the house without mascara? I sure don't and since I go through tubes like there is no tomorrow, here's a lovely deal I found at WagJag: right now, you can get a pack of 6 Maybelline Great Lash mascaras for just $19, which comes down to just $3.17 per tube! You can choose between very black or brownish black.
I have a real issue with mascara. I tend to apply it, apply it and then apply it some more, all the while getting it all over my eyelids. I'm sure it's not necessary at all to do it this much but to me it feels like, the more I put on, the longer they get, but the problem with this method is that I go through a lot more tubes than I should.
In any case, did you know that you should get rid of your mascara every three months anyways because of the accumulation of bacteria? Seeing as to how each tube of mascara usually retails for upwards of $6, sometimes even $10 depending on the brand you get, this WagJag deal is definitely well worth redeeming.
In fact, our very own Anna had this to say about this mascara:
I've used many types of mascara over the years and in my memory, one of the best performers was the Maybelline Great Lash. I haven't actually used it in a few years, as I have been gifted other brands for birthdays and Christmases. But from what I recall, it was a really great consistency, and it never clumped up on the brush or on the eyelashes. It was easy to apply, looked great, and easy to remove too. I personally recommend this mascara!
Oddly enough, certain other HealthSnap offers on WagJag, like the 4 Essie nail polish for $19 deal that Eva wrote about recently, also come with a processing fee but this one shouldn't, especially since the fine print specifies the following: "tax and processing fee charged on merchant's website".
At Walmart, the Maybelline Great Lash mascara is currently on rollback for either $3.56 or $4.96 depending on the shade of black that you get. That's still more expensive than WagJag's deal and for all you brown lovers out there, the brown is completely sold out, whereas it's available at WagJag.
Shipping is free but if you want to get your order quicker, you can choose to pick it up at select Health Snap stores instead.
(Expiry: 8th April 2015)