Shoppers Drug Mart Coupon: 4000 Free Optimum Points When You Update Your Profile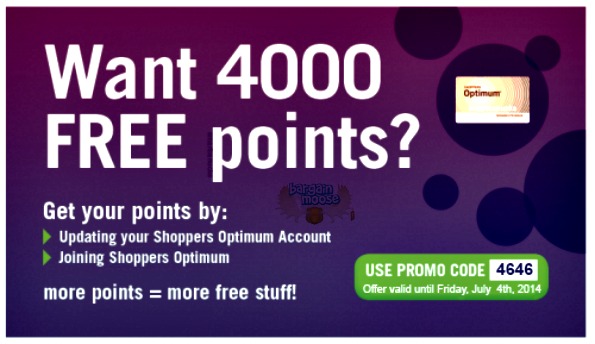 Every so often, Shoppers Drug Mart gives us another way to rack up our Shoppers Optimum points.  This time, you will not need to buy anything to get them; all you will need is a coupon code.  When you update your Shoppers Drug Mart profile, you will get a bonus 4000 points added to your account free of charge!
Click here to update your Shoppers Drug Mart profile now
Coupon Code: 4646
Discount: 4000 Bonus Points
Expiry: 4th July 2014
Some people have mentioned issues in the past with codes not working for everyone or only having so many uses to them, but this time is different. Instead of them sending this coupon code out individually, they have posted it on their Facebook page and they have this promotion listed in their weekly flyer this time.  There should be no issues getting your 4000 bonus points.
It says to update your profile, which means you will actually have to change something on your profile.  If you have no info to change because none of your personal info has changed, there are a few tricks you can do to ensure you get these bonus points. For example, I live on a Drive and my info says Drive but I changed it to Dr. Another thing you can do is to change your phone number to your cell phone instead of your home phone.  Small changes like this will ensure your profile is actually updated and you get your points.
All points will be added by the end of the day on July 18th so fear not if you do not see them right away. Getting 4000 bonus points is the equivalent to $5 on a regular day and even more on bonus redemption days and since you do not have to buy anything to get these points, it is like free money in your pocket to use later!
You will find this Shoppers Drug Mart coupon posted up on the Bargainmoose coupon forum