Graydon Clinical Luxury: 25% Off Fall Bundle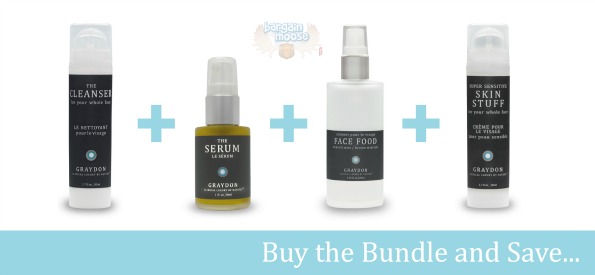 Graydon has bundled up her favourite products into a four-piece set just in time for fall. Purchase the four-piece Clinical Luxury set for only $96, which is 25% off the regular retail price of $128.
This is a Canadian brand of all natural skin care products that are made in small batches in Canada. I currently use four of their products and have tried another one that I am quite impressed with. In this bundle, you will receive:
The Cleanser (50 ml)
The Serum (30 ml)
Face Food Mist (100 ml)
Super Sensitive Skin Stuff (50 ml)
I currently own the cleanser and use it every night before bed. It is a very lightweight cleanser that does a very good job of removing foundation (only thing I wear), and any dirt from the day. I am considering using it twice a day to combat the morning acne. I love that Graydon uses a fair bit of aloe in her products, as it is a great anti-inflammatory.
The Serum is a really rich oil for your face made out of Canadian pressed berries. I also own this product and use it each night on the driest regions of my face. It is one of the few moisturizers I have found that will effectively reduce the flaking under my nose. If you have berry sensitivities, I do not recommend this product.
I currently use Graydon's other moisturizer, The Putty, but I am eager to try the Super Sensitive Skin Stuff as my skin reacts to pretty much anything. Graydon's products are very neutral when it comes to scent, so even my husband has started using my products. He loves the moisturizer and, when he remembers, he puts on Graydon's all natural Sun Cream.
I have not tried the Face Food Mist as I have two other toners that really need to be used up first and they last such a long time. However, it is certainly on my list as a good skin routine is very important to me.
Graydon offers free shipping across Canada on orders of $100 or more. I highly suggest adding a few samples to your cart of other products to hit that minimum. I recommend the Sun Cream and the Hand + Foot Relief - it is awesome! Each sample is just $1.50, so just three samples will top off your cart.
By the way, Graydon is new to the blog so please check them out!
(Expiry: Unknown)