Canadian Freebie: OZ Naturals Anti Aging Vitamin C Serum Sample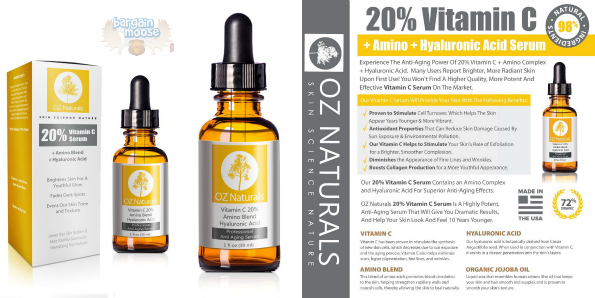 There is a new freebie in town and it is a beauty! Request your free sample of OZ Naturals Anti-Aging Vitamin C Serum from M Coiffure Spa.
This offer is open to Canadians and is valid while supplies last. There is a limit of one sample per household. You will need to be patient: this sample will take between six and eight weeks for delivery.
Now, what exactly is OZ Naturals Anti-Aging Vitamin C Serum? This is a serum you put on your skin that contains clinical strength 20% Vitamin C plus vegan hyaluronic acid. OZ Naturals Vitamin C serum is cruelty free, organic, and it is made in the USA. The serum is supposed to neutralizing free radicals, stimulate collagen, and reduce fine lines/wrinkles.
Now, I rarely put stock in such claims but I looked the product up on Amazon.ca and there are a so many good reviews for this serum that the product averages a 4.5/5 stars with 100 reviews. Even more impressive, with 2,477 reviews on Amazon.com the product still averages a 4.3/5 star rating. That is phenomenal. Most the reviews are quite lengthy so here is an excerpt or two:
I have been using OZ Naturals Vitamin C Serum for three weeks now. And I SEE a difference in my skin. Improved skin tone. Less dryness. And a reduction in fine lines. Their customer service is also fantastic. I actually got reply emails to my questions. From a real human being. That alone gave me faith.
and...
I have been using the Best Vitamin C Serum for over a year and can't live without this product. My skin is more vibrant, bright and age spots have faded. What I love best is that unlike other vitamin C serums it is not sticky nor irritating. Try it, you will not be disappointed:)
Now, some reviewers are disappointed too. However, those tend to be outliers and not the norm. 78/100 people gave the serum a full five-star review and 11/100 gave it a four-star review. That only leaves 11 people that gave it three stars or less.
I think this is a great little freebie if you manage to score it while they still have some in stock. Hop to it my darling Moosers!
Note: Sample size is unknown.
(Expiry: Unknown)