Biotherm Canada FREE Ship, No Minimum! $23 Fantastic Eye Makeup Remover Gel!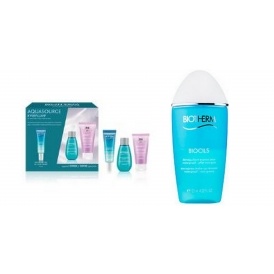 I was really pleased to discover that Biotherm Canada is offering free shipping until May 7, 2016 on all Biotherm products with no minimum purchase required, because I need to stock up again on my Biocils Easy Make-Up Removal Gel For Sensitive Eyes! Enjoy Free Shipping on all orders at Biotherm Canada. Use code SHIPPING at checkout to receive free shipping
I have tried so many different eye makeup removers in the past, but I loved Biotherm Biocils right from the start when I noticed how easily it removes all traces of my eye makeup and doesn't have an irritating greasy feel to it. (I have sensitive eyes too, and my eyes are never irritated or sore after using it.)
I think it's really important to use an eye makeup remover that gets rid of all traces of eye makeup so that you are starting with a clean palette each time. With this Biocils eye makeup remover, mascara goes on very smoothly afterwards! I never feel as though I'm applying new mascara over old, the way some eye makeup removers make you feel.

I love the entire Biotherm line of products but this is one product that I immediately wanted to point out to you because it is the one cleansing product I make sure to always have on hand. You will love it!
Currently at Botherm Canada there is a selection of gift sets for women starting at only $15, (Everplump Starter Kit) and gift sets for men starting at only $31 that are great to try several products out at once.
(Deal Expiry: May 7, 2016)