NCIX Canada: Boxing Day Flyer Out Now & Prices Live On 24th Dec 2014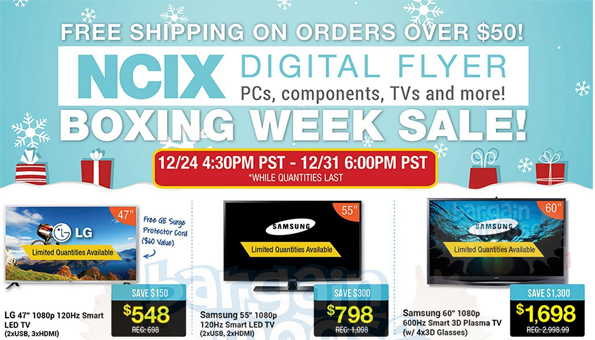 NCIX, the popular Canadian electronics and computer retailer, has just released their Boxing Day flyer and we've got a copy up on our Boxing Day deals forums!
The actual time and date of the start of the NCIX Boxing Day sale is the 24th December 2014, at 4.30PM PST – mark it in your calendars or set a reminder on your phone. There are only 5 pages in the flyer so I am sure that there will be more deals available on the day, they just cannot squeeze them all in to the flyer. The flyer shows us a synopsis of the best Boxing Day bargains.
If there was something in particular you were looking for, perhaps a new computer or a big-screen TV, it's an absolutely great idea to get researching now. Take this Boxing Day flyer from NCIX, see if there's anything that you like, and price compare elsewhere. Then you will be fore-armed with knowledge as to the best deals and where to spend your hard-earned cash.
We cannot write about every single item in this blog post, but here are a few of the highlights.
LG 47" 1080p 120Hz smart LED TV was $698 will be $548 – I'm not sure which exact model it will be as the flyer doesn't say, but I've linked to the 2 LG TVs that fit into that category. Both are $698 so $549 will be a great price. If it's the 47LB5830, the lowest price elsewhere for it is $687 anyway. And the lowest price for the 47LB6100 is $699. This is one of the flyer headliners so there may not be many in stock. If you are interested, I'd plan to be online the instant the NCIX sale commences.
Logitech Harmony Ultimate One Universal Remote Control was $248 will be $148 – this remote control is $250+ everywhere else, so it's a super price. They may not have many of this one either – get in early to secure your bargains.
Sennheiser HD558 Headphones were $279.99 will be $139.99 – these bad boys aren't sold at many stores and the cheapest I have seen this model in the past was $159.99. You can pick them up for $180 @ Amazon just now, but the NCIX price of $140 in their Boxing sales is much better. I want Sennheisers!
Logitech G502 Proteus Core Gaming Mouse was $79.99… and the price is too low to show on the flyer! Just now, it's priced at $59.99 on site, so I'd expect it to be at least lower than that. We'll check back on the day in question to see the price on that.
There are tons more items in the NCIX Boxing sales, click through and check it out.
As for shipping from NCIX, it depends on what you are buying. Some items have free shipping, some don't, but you can see this on the individual product pages once the Boxing Day sales starts. Also, there is supposed to be free shipping on orders over $50.
Here's the full flyer:
(Expiry: 31st December 2014)