Microsoft Store: 64GB Surface RT Tablet + Free Touch Cover (Only $299!)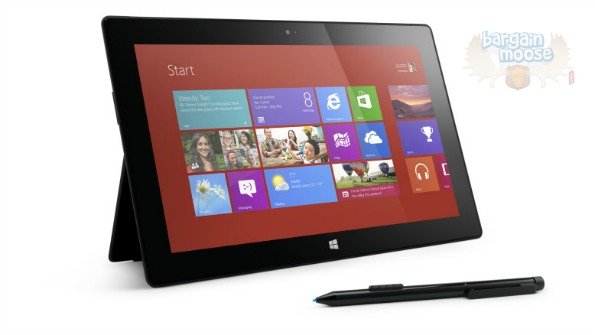 Get a great tablet at a great price!
I'm here to defend Microsoft. Are you feeling okay, Shawn? Yeah, I'm okay. A little tired but I'm good. Why do you ask? Because you hate Microsoft, Shawn! Why would  you defend them? Well, it's kind of like a punk rock teenager who hates the establishment cleaning himself up and getting a job at Starbucks while he gets his GED so he can go to college. It's fine to rage and hate against something blindly but sooner or later (most) people grow up. I used to hate everything Microsoft did, now I've come to realize that it's not all bad. I've grown up. That's right, even me, a nerdy version of anti-establishment punks, can see that Microsoft Surface is a good product.
First off, it's Microsoft. Most people use Microsoft Windows on their computers so most people are familiar with it. The Windows RT OS that runs on Surface tablets is very similar (almost identical, actually) to the the latest desktop version of the OS, Windows 8. If you've been using Windows 8, the tablet is going to be a pick-up-and-go product since you already know the UI. If you, like many people, have looked at Windows 8 and thought that it would really be better on a tablet, well, here's the tablet with (essentially) Windows 8 on it.
On top of all that you're getting a full sized 10" tablet with 64GB of storage AND a free touch cover for only $299. That's a steal. Listen, I'm no dummy. If you have a Macbook and an iPhone, you are probably sunk in to the Apple world too much to get this. If you've bought a new Android phone every year since the G1 came out and you use your stack of old Android tablets as a step stool, you probably aren't going to switch now. Of maybe you are, maybe you want a change. I think the real market for this deal is the person with a flip phone and a Windows computer. Or the proverbial grandma who will never learn to use a computer but could really use it to talk to her grandkids in Russia. Or even the person who already has a Windows phone. I don't see many around but some of those Nokia Windows phones are great.
Shipping on these is free.
(Expires: 14th April 2014)