Future Shop: Free $10 GC With $100+ Reserve & Pick-Up in Store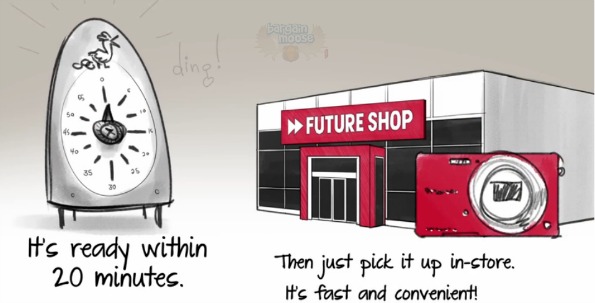 Future Shop has a fantastic little promotion on for today and tomorrow. Receive a free $10 gift certificate when you reserve and pick-up your order in store worth over $100.
To receive your gift certificate, your purchase must be online. When you go to checkout, simply choose the reserve for in-store pickup option and choose your closest Future Shop location. My closest Future Shop is about a five-minute drive away, so I actually chose this option with my Sony SRS-X5 speaker. I highly recommend this speaker; I enjoy it almost every day and it is a fantastic mid-priced speaker if you want quality at an affordable price. Originally $199.99, the speaker is currently on sale for $149.99.
Your gift certificate will be emailed to you approximately 10 days after you have picked up your purchase from the store. The certificate has no cash value, and must be used January 9 - 30, 2015 only. There is no minimum purchase required, so you could just purchase a $10 item and get it for free.
One of the other beneficial things about this deal is that the product you want does not have to be available for purchase online. There are two lines with boxes (usually green) under any product. One says "available online" and one says "reservable in-store." Your item merely needs to be reserveable in-store for this deal to work.
This deal is just really cool as it is from one of the giant companies and it just happens to be one of the big electronics companies. I love electronics and - since our local Best Buy closed down - Future Shop is the place to go.
There are plenty of last minute gifts you may want to pick up this way. Purchase the Nintendo Wii U 32GB Super Mario 3D World Deluxe Set for $299.99 and receive a free $40 gift card AND the free $10 gift certificate when you reserve and then pick up in store.
The gorgeous Dyson Animal Handheld Vacuum (DC34) is on sale for $179.99; you save $50 and get a free $10 gift certificate when you reserve to pick it up in store. Anyone want to buy a Dyson for me?
There is a limit of one gift certificate per person. This promotion is only available for two days. Best Buy Canada - the twin sister of Future Shop - has the same offer on as well.
(Expiry: 23rd December 2014)