Future Shop Canada: 50% Off Philips Sonicare Essence Toothbrush - Now $40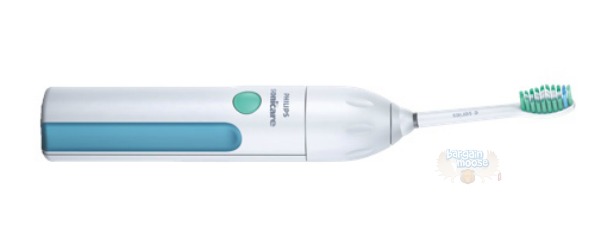 Future Shop has a really great deal on this Philips Sonicare Essence Toothbrush. Originally $79.99 the electric toothbrush is now only $39.99.
So I did a little price comparing. The toothbrush costs $89.99 at Well.ca. At Walmart Canada the toothbrush is on sale; however, it still costs $49.96 which is around $10 more expensive than the toothbrush at Future Shop Canada.
The toothbrush features an angled brush to get at harder to reach areas like the sides of your back teeth. Most people don't brush their teeth for nearly long enough, I am totally guilty of that, so the toothbrush has a two-minute timer to let you know when you should stop.
I haven't used an electric toothbrush in years because of my TMJ yet my husband and my mother are devoted fans of the electric toothbrush. My father-in-law is the most devoted tooth brusher I have ever met and he actually does brush his teeth after every meal. He even brings a manual toothbrush for when he eats out. Oral hygiene is important at any age!
This item will ship for free because it costs over $20.
(Expiry: 9th January 2013)