FLASH SALE—Star Wars Special Edition 15" Laptop & More @ HP Canada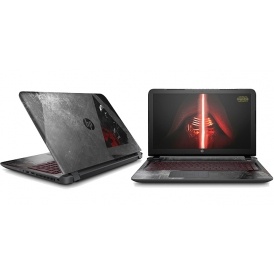 Today is the last chance to take advantage of the flash sale happening at HP Canada. They have a long list of Insider Deals you can cash in on today by registering for or logging into an existing account on the site.
If you have a tech-loving Star Wars fan in your family, this special edition 15" Star Wars laptop might just be the coolest toy in the galaxy. It comes loaded with all the features you'd want in a solid machine...
Windows 10 Home 64
6th generation Intel® Core™ i5-6200U processor
15.6" diagonal FHD anti-glare WLED-backlit (1920 x 1080)
...plus an extensive stash rare Star Wars footage for the Jedi in your family to nerd-out over! This baby will regularly run you $949.99, but if that's not going to bring you over to the dark side, today only sign up or log in to your insider account and receive $75 off using code STARWFLS75.
Personally, I was more taken with this cherry red HP Pavillion 15" laptop. Because, well, red! But also it's regularly $600, on sale for $569.99. As an insider today only you can get an additional $40 off using code 15AB121FLS40. This is HP's best-selling notebook! (And red!)
There are a total of eight Insider Deals to be had as part of this flash sale today, so sign in and have a look—maybe there is something you've been searching for. Free shipping and free returns!
Do you have Star Wars fanatic in your family? I do... but she's 3-years-old and will need to wait a few more years before she gets her mitts on one of these!
(Expires April 7)