Best Buy & Future Shop Canada: Kobo Arc 10.1" Was $300 | Now $170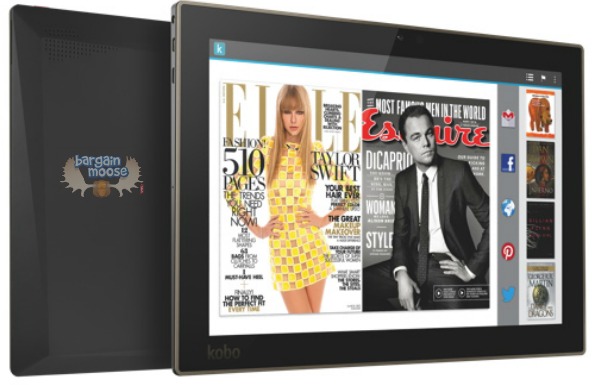 Best Buy and Future Shop have a hot deal on the Kobo Arc 10.1 16GB tablet that was $300 and now only $169.99. This is the lowest price I've ever seen this tablet.
This is seriously a great deal that I'm considering taking advantage of. My kids have Kobo Arc tablets in the 7" version and they are great. I like having a larger screen, so I considered buying this tablet at full-price last year. Instead, I can save $130 and get it today until January 8th or until they sell out.
You might think of Kobo as just an e-reader but this Android tablet is just as good as any other Android tablet and even rivals iPad in my opinion at half the price. You can of course, use it as an e-reader as well, although it doesn't have the same type of screen you see in e-readers that make them so great at the beach.
I personally like the 10" because I use my tablet for recipes and I like to be able to see it larger. Of course, watching movies and surfing is also better on a larger screen and I still find this size portable enough to put in my purse.
This tablet has a 4.3 star rating out of five, with value being rated the highest and performance almost as good.
Impressive processing power under the hood makes the Arc 10 quite fast. A bit heavy, a bit boxy, but the back is well-designed and actually pretty cool-looking with a grippy coating.

I really like this device! I still have to play around with it a fair bit more to figure out all the things that it can do, but so far so good. The only thing is that the speakers don't seem very loud sometimes, but that may just be me...
Interestingly enough, I don't see this tablet on sale anywhere else, so this truly is the best price you'll get it anywhere.
Shipping will be free from both stores, as you are exceeding the $25 free shipping threshold.
(Expiry: 8th January 2015)