Future Shop Canada: ObusForme Handheld Massager Was $99 | Now $30 *Bump*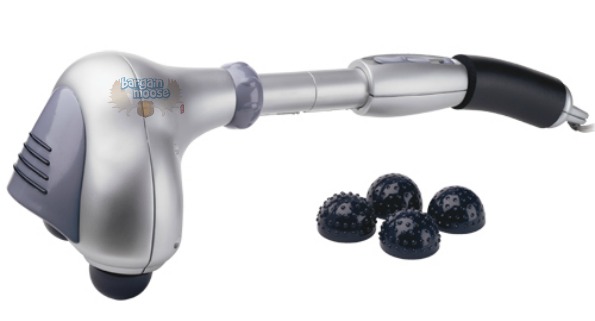 The other day we blogged about this massager and what a great deal it was at Best Buy for $34.99 and now it is is $29.99 at Future Shop. If you didn't get it then, you might want to today at this cheaper price! It has a regular price of $99.99.
Well, I was going to blog this deal for you that I found at The Source, until when price comparing, I found it even cheaper right now at Best Buy!
With the stress of the holidays looming on my back, I really need a massage! Unfortunately for me, my benefits have run out so I need to wait just a few more weeks to get one and get reimbursed for it. In the meantime, my aching back and shoulders are screaming out for some relief and hubby's hands just don't cut it. But, I could pass him this massager and get him to do it with that. I think that would really help get some knots out.
I'd also love this for my middle son, who has trouble getting to sleep and deep pressure works wonders on him. Instead of using my hands, I could massage his back with this. It says it gives 3,000 pulses per minute, which sounds pretty good to me. I can even do it myself as there is an extension arm.
It has really great reviews like:
I bought the body massager for my aching legs. They work really well as I feel better after massaging my legs. They are also great for all over body massage, specially the back. I got this on sale from Best Buy for half price. Lucky me. The only cons was the 3" arm extension. If you try to close it fast, part of your hand can get caught and will hurt you. But once you've done it a few times, you'll always remember to close it slowly. :-)
It sells at Walmart for $78, at Well.ca for $99 and at The Source on sale right now for $50.
Another way you can tell when something is a hot deal is that it goes in my cart, and this one did. I know Best Buy ships quickly so I think I'll get this by Christmas even though I didn't get any shipping details. It will also ship for free being over the $25 minimum.
(Expiry: 21st December 2014)