Amazon Canada: Miikey MiiBeast Stereo Bluetooth Speaker Stand Was $150 | Now $30 For Boxing Day (EXPIRED)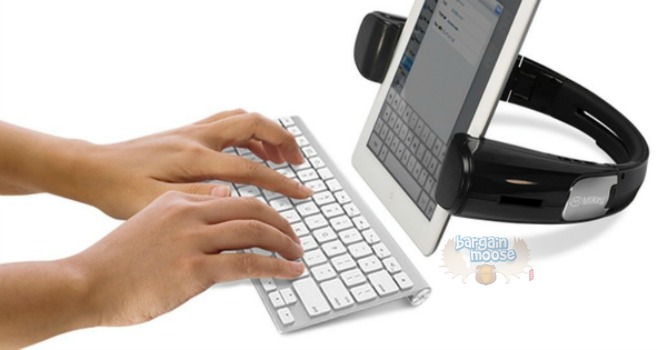 Amazon is throwing out the deals for us to fish for this morning for Boxing Day. The Miikey MiiBeast Stereo Bluetooth Speaker Stand was $150 now is only $30 and free shipping. You save 80% on this multi-functional speaker.
It is easy to mistake this odd shaped device for a pair of headphones. Do not be fooled, the Miikey MiiBeast Stereo Bluetooth Speaker Stand  is a combination of a stand and a speaker for your electronic device. You can take your music, movies and games anywhere with this nice combo.
One thing I really like about this device is it can connect with lots of different devices including iPads, iPhones, android tablets and phones. Although the product specs do not mention every device available, any device that is capable of using Bluetooth should be able to connect to these speakers. Their is no port on this device for charging a phone or tablet. The speaker itself is rechargeable.
From looking more closely at this speaker/stand, I think the product has a design for two different types if users. The first is a user who is on the go with their devices but regularly sets ups a work or play station elsewhere. Perhaps this person travels for work, has many presentation meetings with clients or simply likes to meet up with some friends to study, listen to music or play some games. The speaker/stand combo folds up into a travel-sized bag to make it portable. It comes in black or yellow for a more classic or fun look depending on your interest.
The second user might intend to use their tablet or phone more like a laptop. This user might be trying to get the maximum power out of their tablet or device. They may also have trouble transitioning away from a full keyboard that a laptop provides but want all a more mobile device has to offer.
I know my grandfather (who is also a great grandfather!) would love to be able to switch back and forth between using his iPad mini in his easy chair or on a table with a keyboard to do his bills and accounts. This speaker/stand combo would have been a great gift for him. Actually maybe I will buy it for him, he is not easy to shop for!
Overall the reviews are looking great. This reviewer is looking purely at the functionality of the speakers.
It is a unique speaker-stand fusion. It works well for what it is made for. Battery life is good. Sound is satisfactory. Base could be better but price would be higher as well.
This second reviewer is perhaps setting up their table for use more like a laptop.
Yup, go for it! Great sound and the bonus of the standing-up notepad is appreciated. A little challenging for arthritic hands to get the iPad into the slots. A welcome addition.
Overall, all the users are enjoying the sound for the price and digging this stand though the shape is a little more futuristic. I am not finding this particular model on other Canadian retailers. Other similar stand/Bluetooth speaker combos typically start at $35-$40 when on sale and can easily crest up over $200. With this speaker on sale today for only $30, I think you are getting a steal.
Don't miss all of the other great Amazon Boxing Day Deals in the Bargainmoose forums!
(Expiry 26th December, 2014)