Acer Iconia A100, 7", 8GB for $229.99 (Save $50) at The Source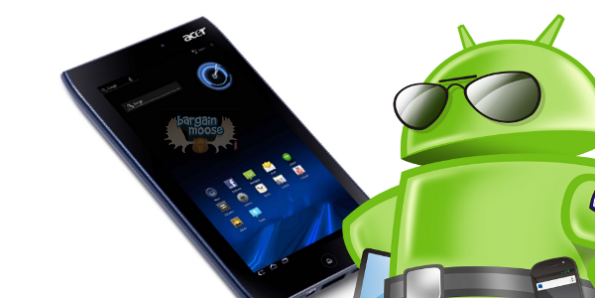 What's the hottest new form factor in the Tablet world? 10.1"? 9.7"? No, it's the 7". Acer was ahead of the game, now you can be ahead of your wallet!
This is an older tablet but unless you are a power user, this is fine. It has Android 3.2 (Honeycomb) and Acer plans to upgrade it to Android 4.0 (Ice Cream Sandwich). As far as specs, it has a Dual Core 1GHz Cortrex A9 processor, Nvidia Tegra 2 chipset, 1GB of RAM, a 5MP 720p read  camera and a 2MP front facing camera. For all the specs, check out GSM area.
So I have heard a lot of people talking about how the 7 inch form factor isn't for them. Well, that may be true for some people but I really think it is a fantastic size. Truthfully it all comes down to portability. My 10.1" tablet is way too big to stick in my back pocket or in my jacket. I have a case for it but I have to carry that around with me like a purse.
Speaking of purses, my wife has a 10.1" tablet that she puts in her purse but it pretty much takes up the whole purse. Do you travel much? What about a 10" tablet VS. a 7" on the plane, bus, train, the passenger seat or back seat of a car or cab? Even the weight is a factor when you're talking about holding it for extended periods of time. For example, reading a book in bed would be a lot easier on a 7".
These are just a few reasons. I'm sure you can find your own, not to mention the great price.
(Unknown: 23rd July 2012, 11:59PM)