50-70% Off Baby's First Owl Infant Bedding Items (Entire Set for $120) @ BestBuy.ca!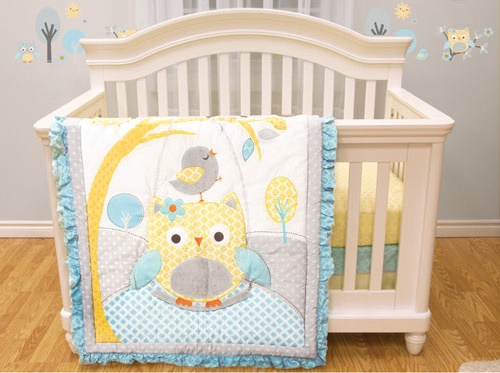 I was browsing through the baby items on BestBuy.ca and discovered that they have 50-70% off their adorable Owl Swing Bedding Set items by Baby's First! If you have a baby on the way, or want to redecorate your infant's room then now is the time. These sets are nothing short of adorable and superb quality as well. The individual items start as low as $19.99. Spend $25 to get free shipping at BestBuy.ca.
There are some great discounts to be had here at BestBuy.ca, and you can have the complete Baby's First Owl Swing infant bedding set for just $119.97 as opposed to paying $259.97. If you want the extra 2 pack of sheets then you will pay a total of $136.96 instead of $294.96. So, you can see the discounts there for sure.
Here are the Baby's First Owl Swing items available:
If you need an extra pair of fitted crib sheets then snag:
The Baby's First 4-Piece Infant Bedding Crib Set is a perfect set itself, but you can complete the appearance of your nursery with the other items. I know some moms are against bumpers or mobiles, but at least this way you have the option of purchasing them or not. Personally, when my son was an infant I used both the bumpers and the mobile. I had no issues! Also, from experience... I totally suggest you grab the extra sheets set as well. I had five fitted sheets for my son's crib and even that didn't feel like enough. I was constantly washing the sheets thanks to spit ups or diaper leaks. So a bit of mom-to-mom advice: stock up on crib sheets.
The Baby's First 4 Piece Infant Bedding Crib Set does include a fitted sheet as well as the crib skirt, wall-decals, and the adorable comforter to tie together the adorable nursery decor. The great thing about crib bedding is it can even be moved over to their toddler bed when they grow out of using the crib.
Best Buy Canada offers free shipping on all orders over $25, so essentially you are going to get free shipping on your purchase unless you buy just the mobile or crib sheets.
Moosers, do you think this crib bedding is adorable?
(Expiry: 21st January 2015)