Starbucks Store Canada Promo Code: 25% Off VIA Refreshers or Iced Coffee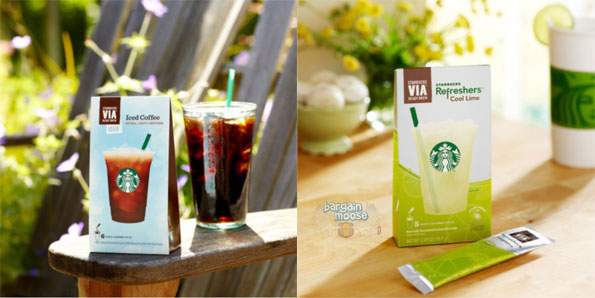 Starbucks fiends rejoice! This weekend only, you can save an additional 25% on all Starbucks VIA Refreshers or Iced Coffee, including those that are already on sale.
Get VIA Ready Brew products @ Starbucks.ca now
Coupon Code: 25OFFICED
Discount: 25% off VIA Refreshers or Iced Coffee
Expiry: 20th July, 2014
What is VIA?
Starbuck's VIA product line basically features a line of ready-made tea or coffee pouches that you pour over either hot or iced water. No other equipment is necessary, just: a glass, the pouch, water, ice (for Refreshers) and voila, instant refreshment!
Which products qualify for the code?
Although the Starbucks promo code above isn't applicable towards the VIA line of Ready Brew or Latte coffee, you can use it on these products:
VIA Refreshers Very Berry Hibiscus: reg. $6.95 / $5.22 with code
VIA Refreshers Cool Lime: now $4.95 (reg. $6.95) $3.72 with code
VIA Iced Coffee: reg. $7.95 / $5.97 with code
While the iced tea packets come with five pouches, the iced coffee one comes with six instead. As I'm a self-proclaimed coffee addict, I'm most excited about trying out the iced coffee one, especially since it has a general consensus of five stars out of five with positive reviews like this one:
I go to my local Starbucks for iced coffee's every other day and this is really close to what I get in the store....Just love it!!!
It is naturally sweetened with cane sugar, though you might need to add your regular cream or milk if that's how you normally drink your coffee. Since ice has the terrible effect of diluting your drink, you could also make a batch of this coffee ahead of time (or maybe even brew it regularly), pour it into an ice cube tray and use those coffee ice cubes to then pour your next drink over.
I used to be a Starbucks addict and I know how crucial it can be to get that fix of your favourite drink, so I can definitely see these pouches coming in handy for a dark Starbucks-less day. These could also be a great substitute for those of you who don't have a Starbucks store near you, or maybe even for taking to work.
Shipping
Shipping is free on orders over $75. For all purchases that don't meet that threshold, a $4.95 shipping fee will apply. You can also try checking out the online exclusives category for more Starbucks merchandise to save on. Simply hover over "gifts & extras" tab at the top of any Starbucks page and click on "online exclusives". You could, for instance, get 18 Veranda Blend portion packs of coffee on sale for $37.95 instead of $49.50.
Moosers, have you tried Starbucks' VIA Refreshers or Iced Coffee? What did you think?