Starbucks Half Price Frappucinos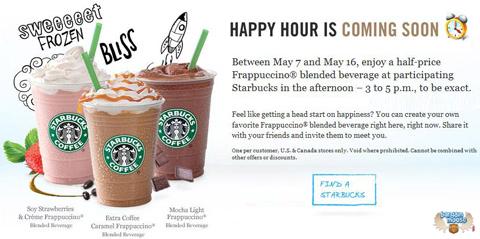 From the 7th of May until 16th May 2010, enjoy a frappucino at participating Starbucks for half price.
Between the hours of 3-5pm from May 7 to May 16, 2010, Starbucks custom made Frappucinos are half price. While it may seem picky to have a super long order with non-fats, no-sugar, extra syrup, or no whip cream, the whole idea of custom made Starbucks drinks is so you get exactly what you want. Create your own drinks before hand so your frappucino is exactly the way you like it.