Starbucks Frapps 1/2 Off For Members Only, 3 PM - 6 PM, limited time!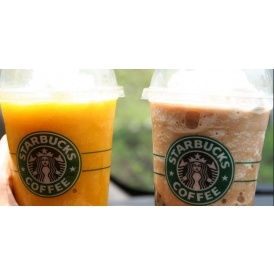 All thoughts are on Starbucks Frappucchinos by the end of a busy work day at the office or at home with the kids, now that the weather has warmed up. We are ready for some ice cold drinks! You will definitely want to become a Starbucks member if you are not yet already, by purchasing (and registering a Starbucks card online.)
This promo is running from 3 PM - 6 PM for members only, from now until May 2nd. This is why you need to have your Starbucks gift card registered! You can purchase a Starbucks e-gift card for yourself online, or use a physical one someone already gave you. Just add the gift card to the Starbucks app on your phone after registering it. When you are at the Starbucks counter, simply scan your card showing in your app (or if you have an iPhone, you can put the virtual Starbucks card into your iPhone wallet.) Super easy way to pay!
If you don't like juggling your purse, kids, stroller, etc. you can also just show the physical card for them to scan, paper or plastic, but make sure you registered the card prior to your visit or you won't receive the discount. Alternatively, if you are using the phone app, you can load it up with any amount you wish using your credit card or Paypal to pay, but make sure you use the app when you purchase your frapps, as it will show you have that card on the app registered.
Have you SEEN the incredible list of frapps that they have?!? Have any of you tried their Birthday cake frapp yet, and did you like it? That one is only available until May 2, 2016. It looks 'pretty in pink!'

If you are a green Starbucks card member, if you purchase a single purchase at Starbucks before May 2nd, you will become a coveted Starbucks gold member! If you are already a gold member and purchase one item prior to May 2nd, you will secure that status for one more year. Their rewards program has made some changes recently, as discussed here in a previous post.
Don't worry, although this offer ends on May 2nd, another half price offer on frapps that we posted earlier, will start up soon! From May 6 - May 15th, Starbucks customers will get half off of their frapps any time of the day!

This offer is available while supplies last, at participating stores.
(Deal expires:May 2nd, with a new deal rolling in from May 6 - 15th.)