Half Price Frappuccinos @ Starbucks!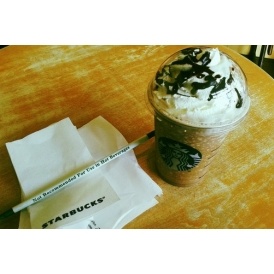 Oh!! I am so excited about this promotion. The Starbucks Canada Frappuccino Happy Hour Promo is coming back at Starbucks. From May 6th until May 15th, Starbucks customers will get half off any Frappuccino blended beverage. I know this is quite an advanced notice, but you really don't want to miss out. I'll be sure to remind you guys about this delicious deal when the time gets closer.
Mmmm, spring is here in a delicious way. I will soon pack away my sweaters (if this snow ever stops) and now Starbucks is encouraging me to switch over to creamy iced coffee treats from my regular cup. Head over to your local Starbucks chain to participate in Starbucks Frappuccino happy hour. You know you want to.

It has been a while since I treated myself to a Starbucks Frappuccino. Winter was long and usually a Skinny Vanilla Latte or Skinny Carmel Machiatto found its way into my cup. The Frappuccinos are decadent, but you can order a lite version of several of them that will scale back the treat a little. The smallest light caramel Frappuccino and smallest light coffee Frapuccino are both listed on the under 200 calories menu. If you are having trouble deciding on your flavor, here is a sample of what you have to look forward to.
S'mores Frappuccino
Caffè Vanilla Frappuccino
Mocha Frappuccino
Java Chip Frappuccino
Strawberries & Cream Frappuccino (caffeine free!)
Vanilla Bean Crème Frappuccino- (caffeine free!)
There are even more flavours than I have listed here, so be sure to ask about them when you get to your favourite Starbucks. This offer is valid from May 6th until May 15th. For non-Starbucks members you can enjoy this promo between 3pm and 5pm. For Starbucks Rewards Members, you can enjoy this promo between 3pm and 6pm.
Image Credit: Elliott Brown