Starbucks Canada Promo Code: Free Shipping On Orders Over $50 (+ Free Taster Cup With Purchase)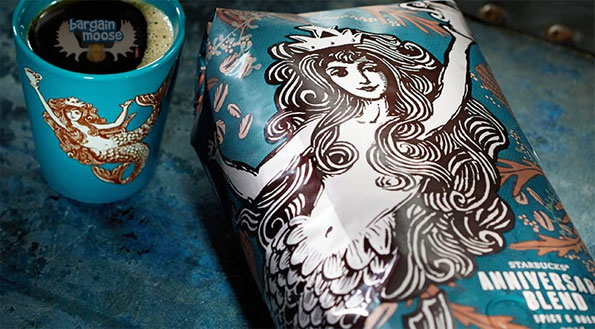 There is still time to take advantage of a free shipping offer on orders over $50 at Starbucks! Shipping is usually only free on orders over $75, so promotion like these are definitely great, especially for all you Starbucks lovers. Plus, you can also receive a taster cup for free with purchase of a 1lb bag of the Anniversary Blend.
Click here to shop @ Starbucks.ca now
Coupon Code: FALLFREESHIP
Discount: free shipping on $50+
Expiry: 7th September 2014
At first, I figured that the free taster cup included with purchase of a pound of the Anniversary blend is the Anniversary Siren's Tail mug, but as the name implies, it really is a taster cup. Valued at $4.95, the taster cup closely resembles it's larger counterpart in that it features Starbucks' iconic siren on a blue background, but unlike the mug, it's handleless. Also, while the mug can hold 355ml (12 fl oz), the taster cup can only hold 90ml (3 fl oz). Since the mug is both microwave and dishwasher safe, I can also assume that the taster cup is also. I have a very bad habit of taking hours to drinking my coffee, so any mug that is microwave safe is ideal for me as I often re-heat my coffee!
The Anniversary Blend is definitely one of Starbucks' more popular blends for its boldness and spicy notes. Aged for three to five years, the Anniversary Blend's beans lend a bold and spicy taste to one of Starbucks' most popular blends. I have had the opportunity to taste this coffee a number of times and every sip has been delightful. At $18.95 per pound, it's definitely a great coffee to give to anyone as a gift, especially in combination with this taster cup. Either that or you could also bust out the cup for guests to try! The only hitch is that if you want more than one taster cup for free, you're going to need create seperate orders as the number of taster cups don't increase with the number of Anniversary blend coffees added to the basket.
Since you do still need to reach a $50 minimum threshold for the above Starbucks promo code to work, I suggest you also check out the Summer Sale. I spotted a number of great deals like these ones:
What is your favourite Starbucks blend? Let us know in the comments section!