Keurig Canada Spring Savings: $5 Off 2 Boxes Of 24 K-Cups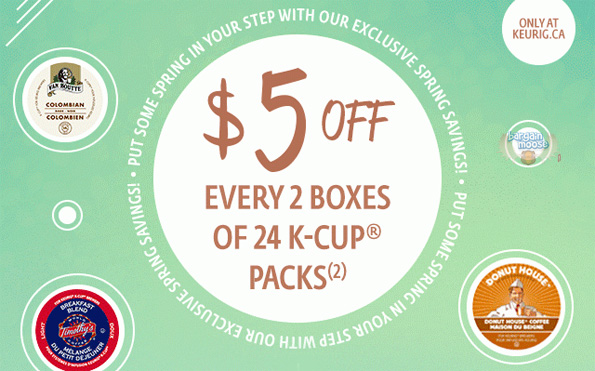 Having just wrapped up their Mystery Savings promotion, it's really quite surprising that Keurig would offer another great discount so soon! Yet for a bit over a week, you can save $5 on the purchase of two 24 K-Cup boxes.
Just this morning, my doorbell rang and lo and behold, my Keurig order had arrived only 3 days after I placed it. I was actually quite surprised to receive it that quick considering the last time I ordered, it took well over two weeks, although that could be explained by the fact that I ordered my k-cups smack dab in the middle of the holiday season.
For those of you who have yet to order k-cups online, the main thing to remember is that it's much more advantageous than getting them at a grocery store. In-stores, most boxes come up to over $0.70 per k-cup, often even verging on $1 for just one, but at Keurig.ca, those same cups come up to $0.65 each (with the member discount that is automatically applied to every order).
With this promotion, however, you can get k-cups at just $0.55 each, which is definitely a much better price.
If you have yet to invest in the magic of Keurig brewers, then I suggest you use the Van Houtte coupon code I wrote about yesterday to get a Keurig K60 special edition brewing system for just $110.30 (reg. $118) or you can also use it on certain k-cups flavours that Keurig.ca doesn't have.
(Expiry: 3rd April 2014)