Keurig Canada: $5 Off Every 3 Boxes Of K-Cups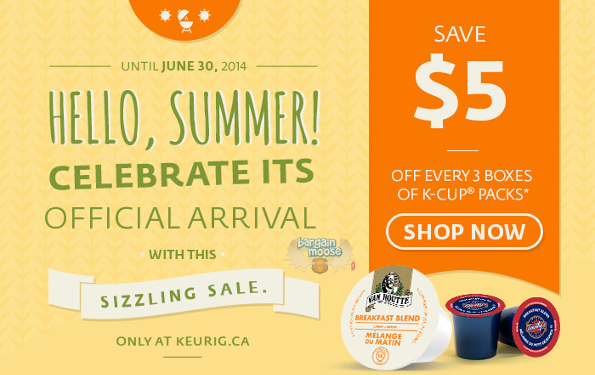 In celebration of the official start of summer, Keurig has just launched a brand new promotion! Until the end of the month, save $5 off the purchase of every 3 boxes of k-cups. This means that if you get 6 boxes, you will save $10, and so on.
I'm a total coffee addict and even more so now that I just had a baby and am frequently woken up at odd times of the night for feedings and diaper changes. Although I used to brew coffee with a regular coffee machine, I have since switched to a Keurig brewing system
There's no contesting the fact that filtered coffee is cheaper than k-cups by a long shot but I still prefer Keurig's system because it's much quicker and my coffee tastes the same every single time. I know what to expect and don't have to worry about putting too much or too little ground coffee.
I'm a huge fan of Tim Hortons' iced coffee but as it's not the most budget-friendly solution to be drinking on a daily basis, I have given Van Houtte's french vanilla iced coffee k-cups a try and have to say that I was pleasantly surprised. All you have to do is brew over ice and voila, it's done; no need to add sugar or cream as it's already included. I wouldn't recommend drinking it hot though. I tried doing that when I ran out of my regular k-cups and let's just say that I poured it out as quickly as possible because it ended up being far too sweet without all the ice to dilute it.
I have also tried the Snapple lemon flavoured iced tea and ever since then, I drink it regularly during the day as it's just so tasty and refreshing, especially when it's 30 degrees or more outside.
Shipping is free on orders over $45. Since your order will only come up to $42.13 with the discount if you get the three boxes at $15.71 each,  I suggest adding three more boxes to save a total of $10 and to also benefit from free shipping.
(Expiry: Unknown)