Free Shipping Promo Code @ Starbucks On Orders $40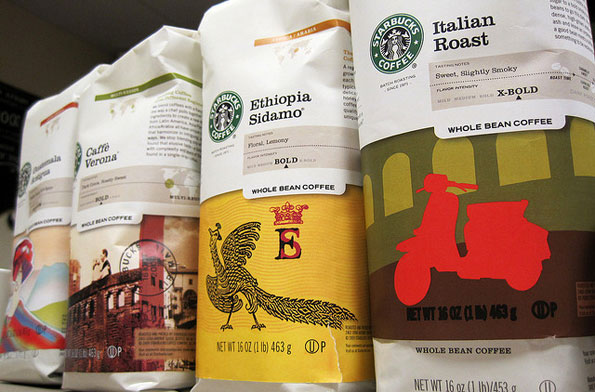 Get your package for free and drink it too with Starbucks' latest promotion: free shipping on all orders over $40 when you enter the code below at checkout.
Click here to shop @ Starbucks.com now
Coupon Code: FS40
Discount: free shipping on $40+
Expiry: 10th August 2014
Usually, Starbucks only ships orders for free if they reach a minimum threshold of $75, so a $40 minimum requirement is definitely much easier on the budget. When there are shipping minimums over $75, I always get stuck with what else to add to my cart in order to avoid shipping fees. In this case, there is only so long that coffee stays fresh, though the best course of action if you're looking to re-stock your coffee supply, is to at least buy whole beans instead of ground coffee. Once the coffee is ground, it quickly begins to lose freshness, which is also why it's best to grind new portions on a daily basis.
Speaking of freshness, French presses are among the best ways to brew a cup of coffee because of the way in which it releases flavour compared to a regular drip machine. Luckily, Starbucks also has a great discount on the Bodum Chambord coffee press: you can get it for just $28.99 instead of $49.95, which is a 42% discount. Looking around, the cheapest I have found it anywhere else is at the Cultured Coffee Bean, where it's currently on sale for $34.50. In fact, Starbucks still had the 4-cup one for its full price of $49.95, but with the 8-cup, you can brew more coffee and get it cheaper! In fact, here's what someone had to say about it:
Very happy with this French Press. Brews great coffee with no grinds!!
Keep in mind that although it states "8-cups", it won't actually brew 8 cups per se, but rather about 2-3 regular cups -- or in a coffee addict's case like mine: one cup ;)
If you're always on the go, then check out the to go mug with cream sleeve in 8 fl oz. It's on sale for $6.99 (reg. $11.95) and is a ceramic mug in a white colour that actually has a slew of great reviews like this one:
I love these mugs -- I bought a second one I liked the first one so much. It's nice to have a travel mug that's not plastic or metal, that is ceramic, and feels to the lips like a "real" mug. The sleeve makes it easy to hold and you never burn your hands, and gives a slight non-slip quality to the mug which I like when I set it on an uneven surface briefly (like the roof of my car when I'm fishing for keys).
Let us know in the comments what great deals you uncover at Starbucks or what you plan on getting with the free shipping Starbucks coupon code.
(Image Credit: Allison H.)