Buy One Teavana Oprah Cinnamon Chai Latte Get One Free @ Starbucks + Other Oprah Discounts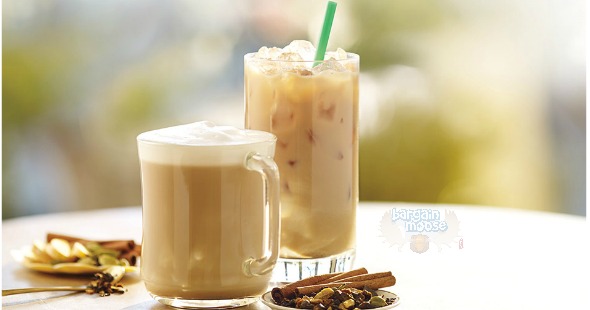 Have you been meaning to try the Teavana Oprah Cinnamon Chai Latte at Starbucks? There are so many reasons to give this delicious beverage a try, but now Starbucks has added just another reason that you should head in and purchase this drink. From the 9th of April through the 11th of April, you can buy one Teavana Oprah Cinnamon Chai Latte and get the second for free.
Starbucks has recently announced that their partnership with Oprah Winfrey has raised over $5 million in donations for different youth organizations and charities across Canada and the United States. In celebration of this milestone, Starbucks has launched an offer that you can't refuse. Head into your nearest Starbucks Canada between the 9th and 11th of April and you can buy one Teavana Oprah Cinnamon Chai Latte and get one for free. This offer is only valid between 2 and 5 pm though, so pay close attention to that.
I have not personally tried this particular beverage, but so far I have liked all of the hot beverages I have tried at Starbucks. The fact that cinnamon is involved appeals to me! Have any of you Moosers tried this drink yet? This beverage is supposed to be a delicious spicy chai with a blend of roobois, black tea, and cinnamon. It is sweetened and finished with steamed milk.
Also, Starbucks Canada will donate $0.25 when you purchase your beverages. This donation will go towards youth education funds. Oprah Winfrey further funds organizations like Girls Inc, National CARES Mentoring Movement, Pathways to College and more. Since Oprah worked so closely with Teavana to develop this blend of tea to gather donations, you can bet that Teavana has a discount too. If you shop at Teavana online in the near future, use the coupon code OPRAH to get a free 2oz Oprah product when you purchase any other Oprah product. We have this coupon code in our Bargainmoose forum. Also, if you visit your local Teavana Canada store, you can buy one hot or iced brewed Teavana Oprah Chai Tea and get one free. Both of these offers expire on the 11th of April as well.
Just remember that every purchase of Teavana Oprah Chai Tea products from both Starbucks and Teavana brings a donation to the Oprah Winfrey Leadership Academy Foundation with 100% of those donations going to the youth education funding. $5 million has already been raised, but there is room for so much more.
(Expiry: 11th April 2015)