Reebok Canada: 72 Hour Doorcrasher Sale Now On (Save Up To 75%?)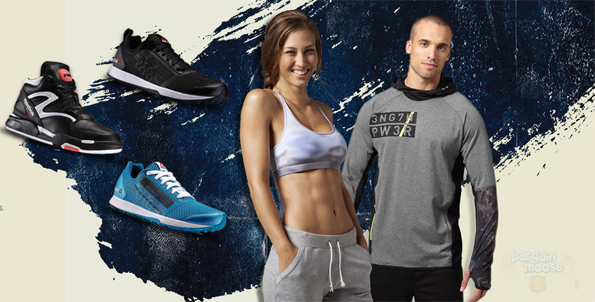 Over on Reebok Canada just now, they've launched a 72 hour doorcrasher sale in which there are some pretty hot deals to be had!
On the Reebook.ca site, they state:
Hurry, before styles sell out, these hot deals will not last long.
This is true – I've already seen one pair of trainers go out of stock as I write this blog post.
Men's Deals
There's a really hot price on these Men's Crosstrain Sprint Trainers, down from $110 to only $30! The colour may not be ideal for everyone, but you cannot deny that they are a bargain price. That's a 73% discount on the original price.
Check out the deal on this Men's Reebok ONE Stretch Hoodie. It was originally priced at $75 and it's now only $30. It's quite a plain design, but a couple of hoodies like this are good wardrobe staples.
Women's Deals
The first item I spotted in this sale was this pair of women's yoga cloud leggings, down from $50 to only $20. That's a 60% discount. I love the style of these leggings and they'd be super for working out at a yoga class… I'm supposed to be doing just that, this evening.
While not quite as good a discount as the men's trainers mentioned above, these Women's Skyscape Chase trainers are half price, down from $90 to only $45. I personally really love the finished colour on these reeboks.
Shipping
The shipping fees on any order less than $50 from Reebok Canada are only $4.50, which is really reasonable. Even if you want free shipping, the minimum spend is only $50 which is a very low threshold, easily achievable.
15% Signup Discount
When you sign up to emails from Reebok Canada, they also offer you a 15% discount. However, the small print on that states, "Valid for 14 days on full priced items only" so it's not going to work in conjunction with the 72 hour doorcrasher deals. However, if you happen to be ordering any full priced items, keep it in mind for new customers.
(Expires: 13th Feb 2015?)