Nasty Gal: Free Shipping on $50 + Sale!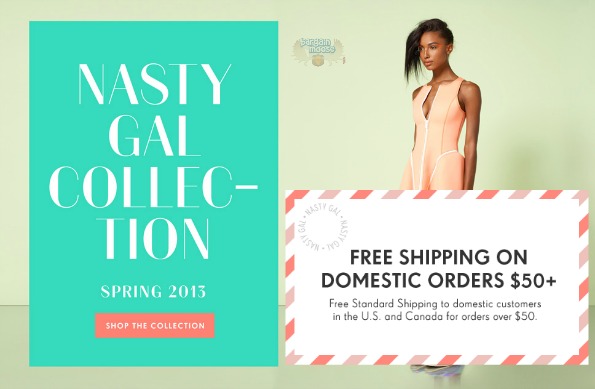 Nasty Gal is a company I recently found (through a fashion blog I read) that totally rocks! They provide very reasonably priced clothing and vintage finds to online shoppers. Though based out of the USA, they offer Canadians free shipping on $50 or more. They currently have a bursting sale section just ripe for the picking.
So here is my small quandary. They call shipping to the US and Canada 'domestic' which to me suggests that they drop ship in Canada so we wouldn't get duty. However, the Canadian flag still shows up under 'international' so we could very well be hit with duties - I have never shopped there so I don't know. Buyer be aware.
On that note, the fabulous sale prices you just can't deny! I just can't keep my eyes off this Networker Dress that was $49.24 CAN and is now $34.47 CAN. I am a major sucker for mesh, fishnet, cutouts, and black. This dress checks so many things off my list I might as well just throw the list out and buy it!
I have recently fallen inlove with leggings (I really need to show you mine some day - hot!) and these Into The Sunset Leggings are a great price. They were $49.24 CAN and is now $34.47 CAN. Pair with a black tee and a pair of killer heels and you are set for the night.
This Clear Confession Blouse is also a killer... hehehe! What a fabulous sheer top and a great price! Originally $38.98 the top is on sale for $27.29.
Do note, the clothing specifies whether it has been imported or made in the USA. From my wee knowledge of customs/duties laws - anything that is made in the USA we will not be charged duty on. Anything imported could very well be subject to additional charges - or not.
(Expiry: Unknown)