Lavinia Lingerie Coupon Code – 25% Discount & Free Canadian Shipping!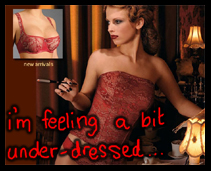 I don't normally blog about non-Canadian sites, but I think this deal is definitely worth a mention here. LaviniaLingerie.com is a US based site, which ships to Canada. They currently have a pretty decent coupon code in the form of a 25% discount. And the reason why I'm mentioning it, is that they also are offering free Canadian shipping!
Where

: Online @ Lavinia Lingerie

What

: 25% Discount & Free Shipping

Coupon Code

:

LLBFCM
Expires: 31st November 2008
They sell many types of lingerie, from briefs to baby dolls. They even have an activewear range. I was looking at it, as some of the items look quite good for my yoga classes.
The lady in the image over there is wearing the "LOW-RISE THONG PANTIES (6146) - $29.99" and the "LACE UP CORSET (6144) - $85." Looks quite restrictive!