La Senza: Up to 70% Off Clearance Sale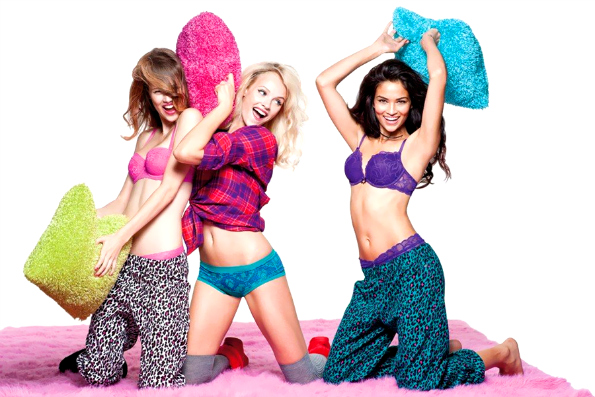 La Senza is one of the few Canadian destinations we have for mainstream lingerie such as sleepwear, panties, and bras. Therefore, I was delighted to see that they are having their semi-annual clearance sale with up to 70% off! Bras start at $8.99, underwear starts at $4, and you can get up to 70% off all the fancier lingerie as well.
A new year has arrived and it is time to toss those worn-out bras and pick up some new support. This Lightly Lined Balconnet Bra is discounted from $22.50 down to $8.99. This makes a good t-shirt bra for every day wear. You can get the same Lightly Lined Balconnet Bra (lace) with lace accents for the same price. For something more adventurous, try the Push Up Bra from the body kiss line. Originally $44.95, this bra is on sale for $16.99.
All panties are now just $4, so it is time to stock your drawers! The Thong Panty from the Beyond Sexy line was $16.50 and is now $4. Even someone half-decent at math knows that is over 75% off. The Obsession Thong Panty comes in a bunch of colours so there is a good chance your size is still in stock. Also $16.50, they are now $4 each. Not everyone is into thongs, so check out the Mid-Rise Brazilian Panty on sale from $16.50 down to $4.
Now, let us move into fancier pieces fit for the bedroom and lounging around the house feeling glamourous. This Bustier with Unlined Cups is on sale from $49.50 down to $14.95. It is a delightful top that you could use as a camisole under another shirt. If you are into bodysuits like I am, then try out the Unlined Lace Bodysuit on sale from $59.50 down to $17.85. Sometimes I am on a strict budget but I always make sure to put aside a few dollars for special treats. What is life without a bit of fun? This Unlined Lace Bustier is adorable and affordable. Pay just $11.85 (was $39.50) for this little number.
All I want for winter is a nice pair of slippers and a fuzzy robe to keep me warm. Knit Booties are on sale from $19.95 down to $9.75 a pair. Sizes small, medium, and large are still in stock. La Senza even has a Cosy Robe on sale for $17.47 that is 50% off.
Shipping is a flat rate of $9.
(Expiry: Unknown)