La Senza Canada: Thigh High Stockings & Stay Ups 70% Off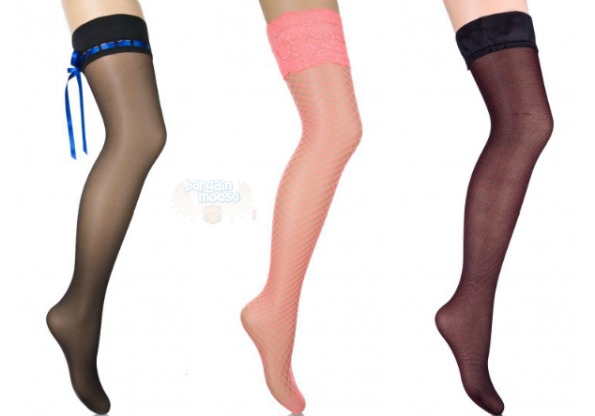 If you are looking for a way to spice up life in the bedroom, look no further than La Senza Canada. They have a great Semi Annual Clearance Sale with great prices on just about everything.  I found some great thigh high stockings and stay ups on sale 70% off the regular prices and they are sure to spice things up for you.
In total, there are six different stay ups and thigh high stockings to choose from and they are all 70% off the regular prices.
My favourite would have to be these Dreamlegs thigh high stockings that were $19.50 and are now marked down to just $5.85. They are silky sheer in black with pretty details of a royal blue bow on the top.  They are also run-resistant so you can use them over and over and no fear of ripping them. Black stay ups like this can be worn under and skirt or dress and would just look like a regular pair of pantyhose until you get home that is.
Another great find are these sheer lace top stay ups that were $16.50 and are now on clearance for just $4.95. They come in the colour Mars red and they are the perfect finishing piece to any sexy outfit.
If you are looking for something a bit more fun for everyone to see, check out these back seam stay ups that were $19.50 and are now just $5.85.  They have the word LOVE written up the back of them, which is a pretty and fun little detail.
There is something so sexy about a simply pair of pantyhose or thigh highs.
There is a flat rate shipping of $9 but today for Canada Day, they have a great coupon code.  Use the La Senza coupon FREESHIP75 to get free shipping on all orders of $75 or more.
(Expiry: Unknown)