La Senza Canada: B1G1 For $10 Show Off Collection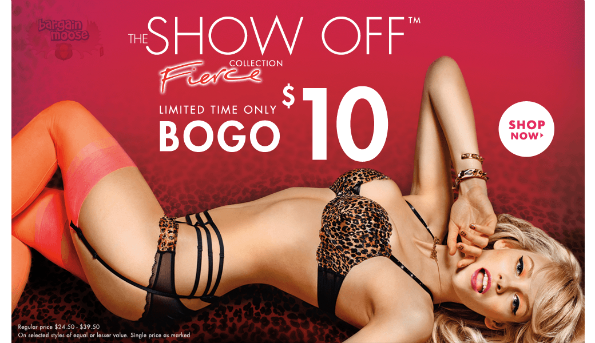 La Senza has a really hot deal on their new Show Off Collection. When you buy one you can get a second item from the collection for only $10.
This collection is appropriately named as it truly is fierce and sexy and just beautiful. This Front-Close Push-Up Bra with the back lace is so nice to see! I have seen the style from a couple other companies but La Senza is a fantastic company to make such new designs available at a reasonable price. This bra will cost you $32.50 and will be a load of fun. I have always wanted a front fastening bra!
Another really popular style right now is often called the long-line bra... but La Senza calls it a crop bustier. Either way, this Crop Bustier Bra is so in right now and at La Senza it only costs $39.50. If I bought this bra and the one above I would only have to pay ($39.50 + $10) = $49.50 instead of ($32.50 + $39.50) = $72. You save a good chunk of money on this deal and get some really sexy bras in the process.
Shipping is a flat rate of $9.
(Expiry: Unknown)