H&M Canada Discount Deal – Do You Want 20% Off?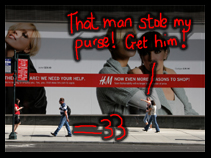 The super-cool H & M Canada stores are offering us a 20% discount on any one item. Their clothing is pretty cheap to start with, so this is excellent!
Where

: Use in-store @ H&M Clothing

Discount

: 20% Off One Item

Expires

: 13th February 2009
If you like H and M clothing, this is a great deal. It says one coupon per customer… but I reckon you could try using it a few times.
I do quite like many of the styles in the H&M store… I've been in a few of the stores around the country. Although I have a size problem there… I think they might be made to fit smaller bodies than me! The H&M kids range is excellent though. They do really stylish children's clothing, at great value prices. I've bought lots of items for my nephews' birthdays from H and M Canada.
And just in case you didn't know, H&M stands for Hennes & Mauritz!
Thanks to Dreamer7112.